"Don't take everything too seriously unless you want to," awfultune tells us.
Despite her seemingly lighthearted advice, it's clear that the multi-talented songwriter / vocalist / producer has worked hard on her craft—in the span of just a few short years, awfultune went from recording on her iPhone in her bedroom to independently releasing tracks that have garnered millions of streams across platforms. What's more, each and every song in her discography is emotionally stirring, intimate, and infectious, and above all, feels unmistakably unique.
We recently had the opportunity to sit down with awfultune to hear about the evolution of her creative process and her insights for other musicians around how they can find their sound—read on for highlights.
1. Don't worry about having the fanciest gear
You don't need a high-end studio or the most expensive plugins to start developing your sound. "I used to record on my iPhone in my little bedroom," awfultune recalls. "My microphone was the Apple earbud mic, and I would use the GarageBand app to make everything. That's what it was for me for a while, and it totally did the job—I made my first EP and my first album that way!"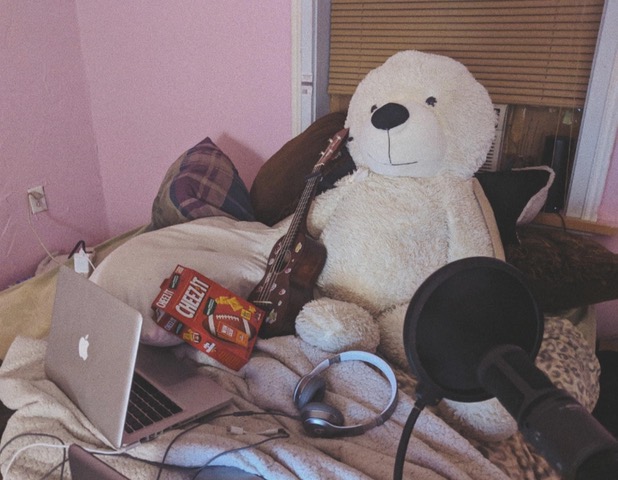 awfultune's bedroom setup from 2018
She emphasizes the power and versatility of built-in tools and plugins. "I really love GarageBand's guitar presets," awfultune tells us. "I've used them in the past on my guitars, but lately have been using them on my vocals too to give them some edge and distortion. I mix and produce everything I do on my own, but I'm not perfect at it. I've just messed around until I found my desired sound every single time."
Awfultune's studio has evolved since her early days, but she continues to get a ton of mileage from a fairly minimal setup. "Currently, I've built a recording studio in my basement, so I produce all of my music there," she says. "I still use GarageBand, but I've also incorporated a little bit of Logic Pro X into the mix. I always say Logic is kind of like GarageBand's cooler older brother that has more professional music production capabilities and plugins. I now use an Audio Technica AT2020 condenser microphone, and my little red Focusrite Scarlett Solo as my interface."
awfultune's current basement studio
2. Embrace imperfections
Awfultune's sonic identity is unmistakably centered around her emotive and wide-sounding vocals, and she demonstrates a high level of intentionally around approaching them. "If you know me, you know I love vocal tracking," she says. "It's for sure my favorite go-to to make the sound stronger. It's different every single time I do it, but I usually do one vocal in the middle, one vocal track panned to the left, and one panned to the right. After that, I like to track a bunch of harmonies. You can hear that in a lot of my songs."
While she's intentional, that's not to say that everything is excessively polished. "The 'awfultune sound' isn't perfect in the slightest, and that's what I love so much about it," she explains. "In the past, I wanted the background noises to be featured a ton, and I liked how all of my breaths or how I ended words weren't ever lined up with each other because I felt it gave it more of a raw feel. Only recently have I been experimenting and trying to perfect the sound, just to see if I can do it."
Another aspect of embracing imperfection for awfultune is leaning into moments of emotional vulnerability. "I'd say my song 'letting you in' is the one I think of when it comes to capturing a kind of vulnerable emotion," she tells us. "It has vocal tracking and harmonies throughout like all of my other songs, but at the ending I cut out every vocal but the main one and the lead harmony. It was just me and my baritone ukulele on a really tough day, and I didn't want anything else to come through but that. At this point in the song, I started to break down and it was just a one-take of me trying to finish. It was so intimate, and I thought listeners could really relate to that part, so I left it in. It's one of my favorite songs for that reason."
3. Be yourself
"I feel like every artist has their own thing they do when it comes to their music that makes them personally stand out," awfultune says. "Mine is just being myself. I enjoy using audio clips of my friends or samples of my favorite melodies because they give things a nostalgic feel for me. If something isn't exactly perfect, I don't really care that much. It's all intentional and it's not perfect and I love it."
"My advice would be to just have fun with it. Don't take everything too seriously unless you want to. You could read a book or study tutorials, or just f**k around and see what happens. Try something new every time, or stick to what you know—it's your music and no one else's."
How do you find your own sound? Let us know in the comments below.
April 28, 2021