KORG
KORG Collection 4
A suite of software synths that carefully recreates the authentic sound and behavior of legendary KORG synthesizers for the present day and beyond.
Try free for 3 days
Pause or cancel at any time
No hidden fees or interest
Compatible with macOS and Windows.
Available as AU, VST, VST3, and AAX.
NEW: microKORG
Since its release in 2002, the compact, intuitive, and beautiful-sounding microKORG has been one of the most-loved hardware synths in music history. This software emulation fully recreates the sound, behavior, and look of the original microKORG, reproducing not only the analog modeling oscillator, filter, and amp sections, but also the effects section, arpeggiator, and fan-favorite vocoder. Plus, produce in style and use microKORG with one of several skins referencing past versions of this famous piece of hardware.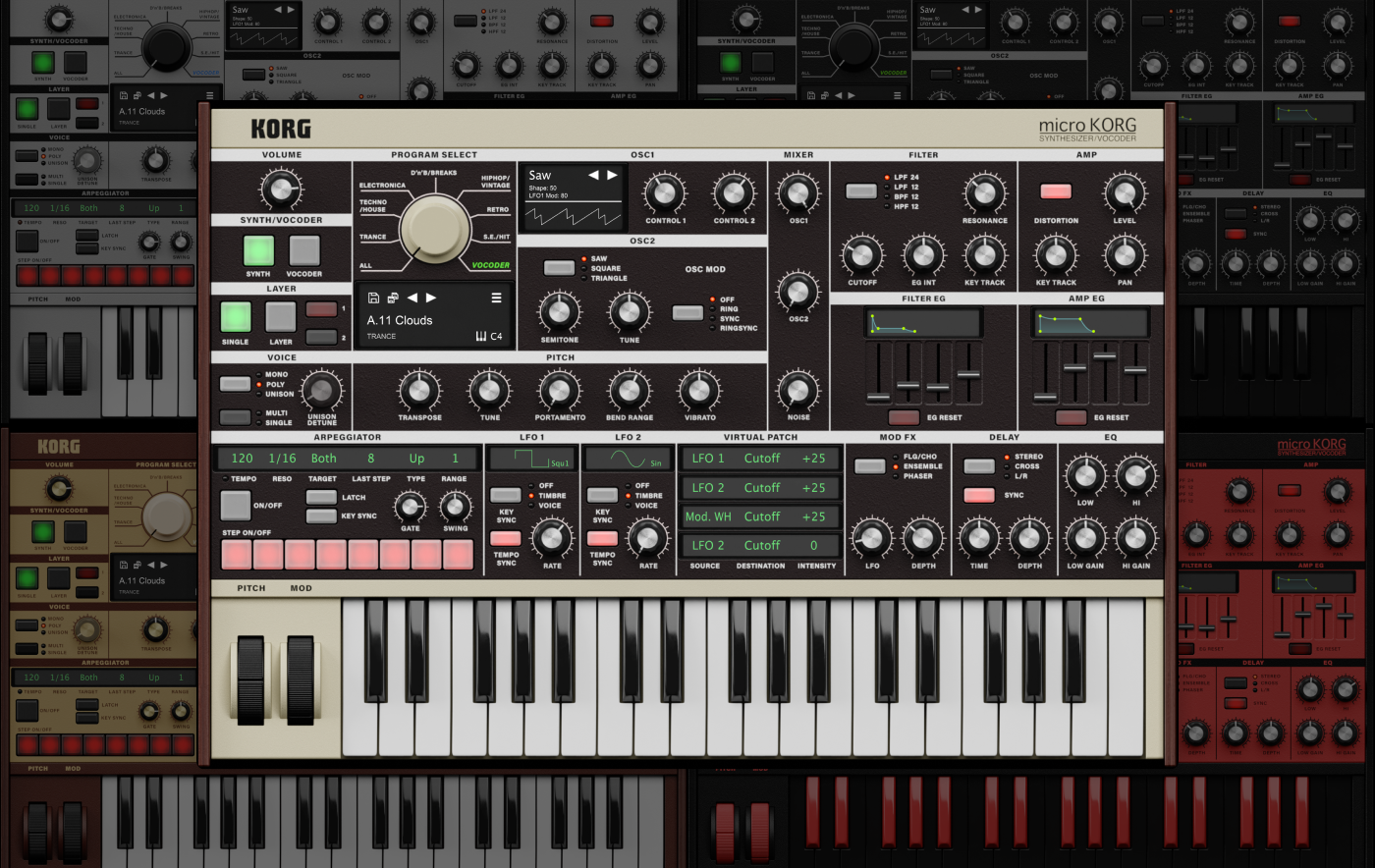 NEW: ELECTRIBE-R
First announced in 1999, the ELECTRIBE-R has been a beloved beatmaking tool for decades. KORG's faithful recreation features the same step-sequencing goodness that made its namesake such a success, offering an easy workflow to set patterns, mutes/solos, accents, and effect sends for all parts—as well as motion sequence input. This software version also introduces some modern comforts that the original didn't have, like drag-and-drop MIDI export, allowing you to easily save patterns and grooves for later use.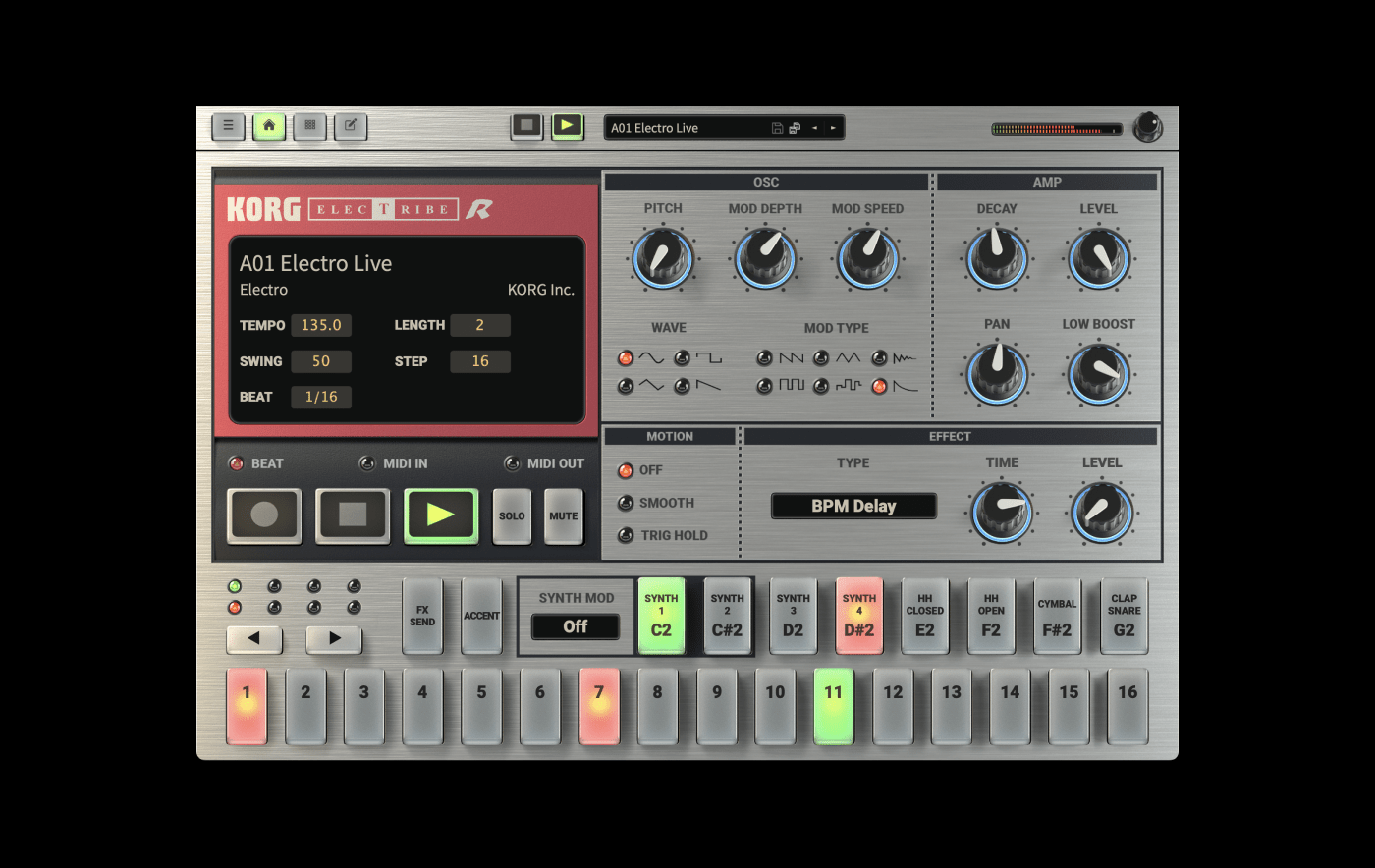 NEW: KAOSS PAD
From the first version introduced in 1999, the KAOSS PAD series has offered producers and performers a unique approach to effects and modulation for years, letting you simply touch and trace to apply effects to any sound. This software version isn't just a recreation, but rather a totally new approach to the KAOSS family that allows you to tweak and manipulate the internal structure like never before, while still maintaining the classic 'touch pad' approach that made the original a production and performance must-have.
Prophecy
Arriving in 1995, the legendary Prophecy was defined by cutting edge digital signal processing technology and a DSP chip formerly used exclusively for effects processing. The original Prophecy's MOSS (Multi-Oscillator Synthesis System) is equipped with five oscillator types, allowing for an extra wide range of sounds. The Prophecy's GUI is divided into three sections: SYNTH, FX, and ARP. Each section is laid out to make sound creation as intuitive as possible, with the ease of use, polyphony and modern features necessary for today's music production.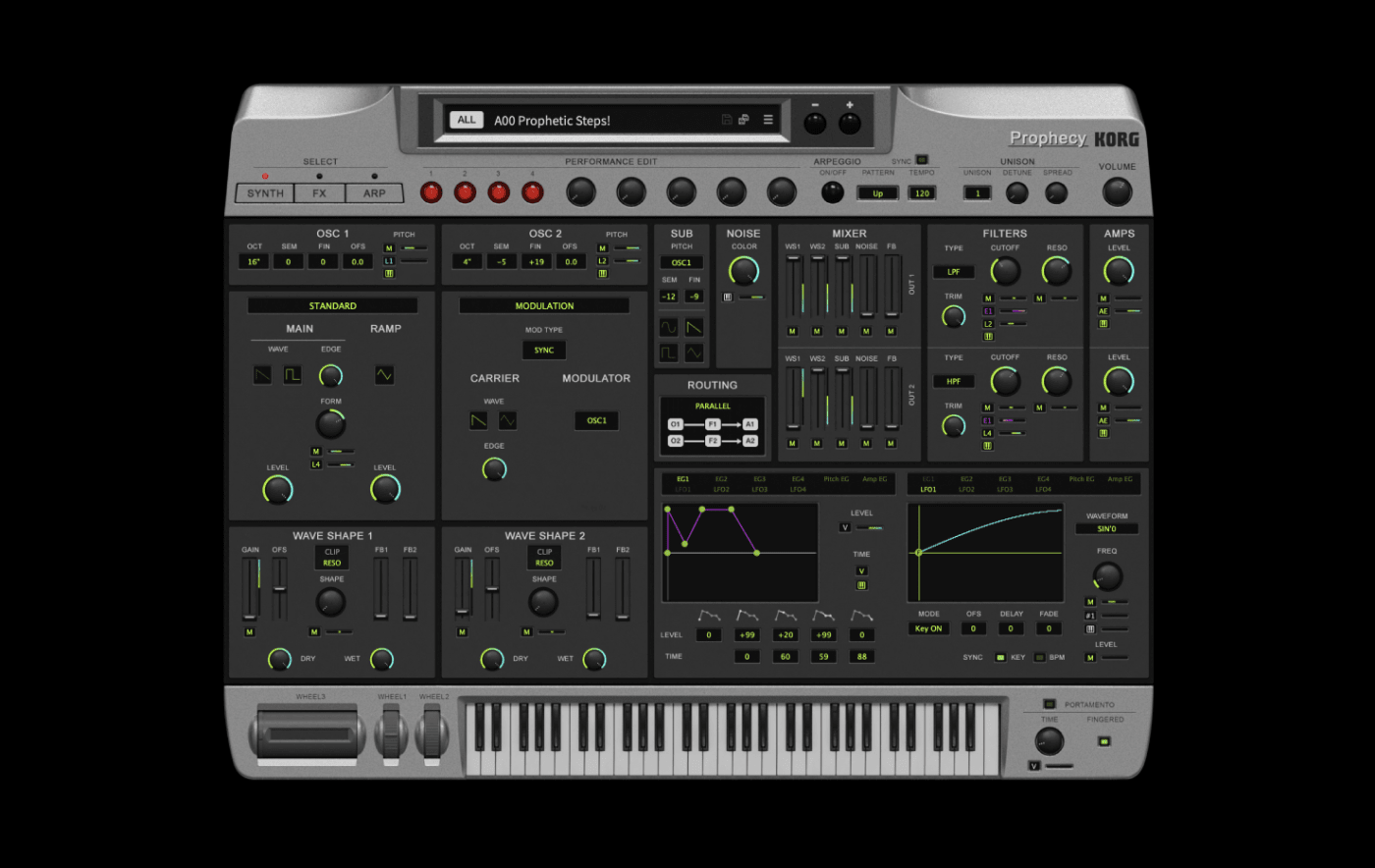 miniKORG 700S
Released in 1974, miniKORG 700S was KORG's first analog synthesizer. The original miniKORG 700S was a 2VCO, 2VCF, 1EG, 1LFO monophonic synthesizer, engineered to produce a beautifully musical sound rather than just a scientifically accurate one. Also, instead of a more traditional ADSR style envelope, the miniKORG700s allows the user to control the shape of the sound with two sliders; one that controls attack time and decay time, and one that controls sustain level and release time. These quirks and more have all been faithfully reproduced in the software version.
TRITON Extreme
First appearing In 2004, TRITON Extreme was the vacuum tube-equipped high point of the TRITON. It was the first ever attempt to include a tube in a workstation keyboard. The Valve Force, which is the circuit linked to the vacuum tube, allowed the powerful, analog sound characteristics of a vacuum tube to be an integral part of the overall sound. The TRITON Extreme also truly emulates the original's HI (Hyper Integrated) synthesis system in software, so you can capture the sounds that shaped the music world of the 2000s.
TRITON
This award-winning workstation has been faithfully reproduced down to the smallest details from the Hyper Integrated (HI) synthesis system to every one of the vast number of preset programs. These sounds and parameters include filters, insert FX, master FX, EQ, and a dual arpeggiator.
M1
The first workstation synthesizer and pioneer of the PCM tone generation, the M1 defined the sound of the late '80s and early '90s. This digital version offers that same distinctive resonance and tonal character offered by KORG's trailblazing voicing technology.
WAVESTATION
The WAVESTATION synthesizer produced a new sound in 1990 by combining and shifting between multiple complex waveforms. KORG has turned the synth's joystick experience digital so you can mix and morph oscillators, sequence sounds, and arrange rhythmic patterns on an improved high-resolution and scalable interface.
MS-20
The entirety of the 1978 analog, monophonic, patchable synthesizer has been reproduced with its two oscillators, high-pass/low-pass self-oscillating filters with unique distortion, and a patch section with an external signal processor that can accept external audio input.
Polysix
The programmable 6-voice polyphonic analog synthesizer released in 1981 has been completely reproduced. Shape your choice of waveforms, chorus/phase/ensemble effects, and performance functions such as chord memory, arpeggiator, and unison.
Mono/Poly
In 1981, Korg combined its analog synthesizers into one ground-breaking four-VCO mono/poly synth. This latest evolution brings the power and vintage vibes you want in a plugin. Each of the VCOs offers adjustable pitch, waveform, octave, and level. Plus, the Synchro and Cross Modulation functions for creating revolutionary tonal effects, and more.
ARP ODYSSEY
In 2015, in collaboration with ARP Instruments co-founder David Friend, KORG recreated the original 1972 ARP ODYSSEY using precise models of the transistors, capacitors, and resistors used in the hardware model. KORG has once again recreated the ODYSSEY in plugin form.
MDE-X
The MDE-X uses effect algorithms derived from the high-quality TRITON family of synthesizers. With its 128 effect programs, this plugin can be used for creating sound design, live performance, and mixdown sessions.
In 2004, KORG released the KORG Legacy Collection, a groundbreaking endeavor to authentically recreate the company's most famous synthesizers in software. The KORG Collection was leveled-up in 2017 with the addition of the ARP Odyssey, again in 2019 with KORG Collection 2, adding a faithful recreation of the TRITON, along with newly refined GUIs for all existing plugins, and then yet again in 2021 with KORG Collection 3's introduction of the miniKORG 700S (KORG's first mass-produced analog synthesizer), the MOSS Tone Generator-powered Prophecy, and the TRITON Extreme, the vacuum tube-equipped high point of the TRITON series.
Now, KORG is back again with the latest update to their flagship software instrument series, expanding further into their iconic sounds from the '70s, '80s, '90s, and '00s. Joining the suite are the playful microKORG digital synth, the ELECTRIBE-R rhythm synthesizer and beatmaking tool, and the KAOSS PAD, which mirrors the revolutionary KAOSS PAD touch-based effects processor. Try the Collection yourself to use all 14 classic instruments.
What's included:



- NEW: microKORG (only VST3, AU, AAX)
- NEW: ELECTRIBE-R (only VST3, AU, AAX)
- NEW: KAOSS PAD (only VST3, AU, AAX)
- miniKORG 700S
- Prophecy
- TRITON Extreme
- TRITON
- M1
- WAVESTATION
- MS-20
- Polysix
- Mono/Poly
- ARP ODYSSEY
- MDE-X
For the most up-to-date system requirements and host compatibility details, please visit the manufacturer's website
Mac OS X 10.14+, 8 GB RAM (16 GB recommended), 8 GB free disk space (SSD recommended), 4 cores CPU
Windows 10+, 8 GB RAM (16 GB recommended), 8 GB free disk space (SSD recommended), 4 cores CPU
AU, VST, VST3, and AAX (AU, VST3, and AAX for the newest plugins). All plug-in formats are 64-bit.