Los Angeles based producer and DJ Matt Deco just released a brand new track entitled "Between Worlds" that he created using Splice. Known for his meticulously crafted Deep Dubstep sound, Deco has been a rising star on the underground scene worldwide. You can sign up for a Splice account download the full session (below) and open it in Logic X. View his annotations in our expanded DNA Player to understand how he approached individual tracks and read the interview to learn about upcoming projects, mixing techniques and his experiences using Splice.
Splice:  Can you tell us a bit about the process of creating this track? How did you get started?
Matt Deco: Pretty much everything I work on in the studio starts as an entry in the notes I use to document all my music projects. Putting ideas down in text instead of just holding them in my head helps me stay productive and keeps things moving from 'rough idea' to 'song' at an even pace. A 'Make something to share on Splice' note in my to-do's jumped out at me on this particular studio day so I sat down and opened Logic with that in mind. I had a gig coming up playing alongside Youngsta and Truth and figured I should have something new for my set, so I focused on doing something on the minimal dubstep vibe they're known for championing.
Splice: You aren't using any third-party plugins and the mix sounds really good. Do you usually work with Logic's native plugins for mixing and composition?
Matt Deco: I normally use a mixture of native plugins combined with a handful of favorite third-party ones that I've been using for years, but I planned on this session being shared publicly on Splice and wanted to make sure everyone could open it with just the basic Logic Pro X installation. Sticking to the native plugins was a fun challenge, plus I've been all about embracing constraints lately and trying to do more with less in the studio. As for native plugins, some of my favorites are Compressor, Overdrive, and Space Designer. You'll find multiple instances of these in every project file I work on. For third party, my go-to's are things like FabFilter Pro-Q, AudioDamage DubStation, and my cherished Access Virus TI Snow.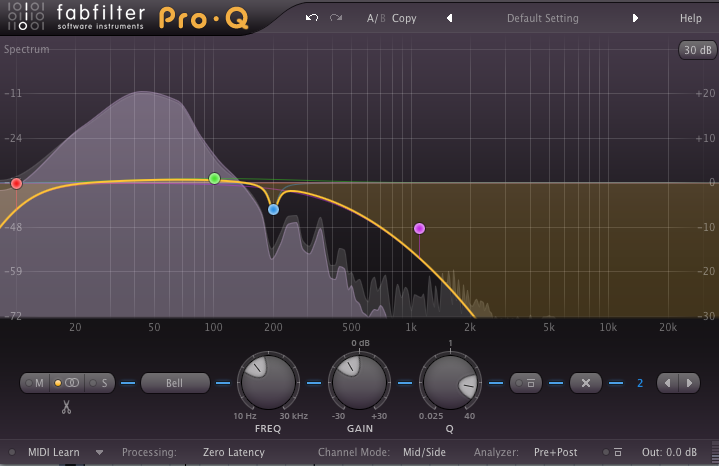 The longstanding issues with Logic's native EQ were finally resolved in 10.0.5 so getting a decent mix without help from third-party plugins is a lot easier. The two things I found lacking with Logic's native options are transient control similar to something like LVC Audio's ClipShifter and a decently transparent limiter suitable for the master channel like the Waves L2 or FabFilter Pro-L.
It's a well-worn concept but it bears repeating: 98% of getting a good mix is using good sounds to begin with, and 'Between Worlds' is no different in that regard. If you go through the session, you'll see that most of what I'm doing mix-wise consists of relatively simple EQ cuts and mild compression. Making, collecting and using good sounds gets me most of the way there.
Splice: Can you tell us about your experiences with Splice so far? How do you plan on using it in the future?
Matt Deco: My experience has been great so far and it's increasingly enjoyable the more I use it. I'm using it to track revisions for solo projects as well as manage a bunch of collaborations I have going with other people. In my opinion it's the coolest new 'web thing' for music people in a while. The community that's coalescing around Splice reminds me of the early days of SoundCloud when it was primarily just music makers and the most hardcore of music lovers. As for future uses, I'm going to keep using it for collaborations and I'm also working on some other things to share publicly, like my favorite Logic templates I've built over the years that help me get song ideas going quickly.
Splice: What other projects are you working on? Anything you'd like to tell us?
Matt Deco: I just finished an EP for SMOG that will be out in the next couple of months and my very first vinyl release courtesy of Deep Heads should be coming out in the same timeframe. Getting my music on vinyl has been a longtime goal of mine and finally achieving it is nothing short of awesome. I'm also on some upcoming compilations for Tuba NYC, Subaltern Records, and MindStep Music; I'm also working on an EP for MindStep. Beyond that, there are a few 'in your dreams' labels I'm pitching demos to and I'm in the early stages of a second album to follow up Timescales. We'll see what happens!
Splice is the cloud platform for music creation, collaboration and sharing. Sign up for a free account and get started making music!
January 20, 2015