With Collections, you can now easily access your favorite sounds directly from the Splice desktop app.
Use Collections to gather and sort your go-to sounds for a project, a performance, or so they're always only a click away. Collections allow you to work with samples seamlessly while staying in your flow so you can focus on creating.
What you can do with Collections
A Collection is a feature in Splice Sounds for gathering your favorite samples – one-shots, loops, and presets – to use in any future project, or perhaps as inspiration when you're feeling stuck.
Sort your samples and label your Collections by mood, instrument, feeling – whatever fits the way you work.
For example, you can gather all the punchy kicks that define your unique sound in one Collection.
Or, save sounds with a similar feel – i.e. vintage, jazzy, ambient, distorted – from a variety of instruments like guitars, drums, and synths in one playlist.
They're great for categorizing sounds into moods too. Save the sounds that feel happy, sad, peaceful, or intense together for a future project needing that exact vibe.
Think of it as a playlist, but for samples instead of full tracks.
Your Collections are now available on your desktop app
Collections are available on both the Splice web and desktop apps. Whether you've already saved a sound from the web or are doing a search on the desktop app, you can drag and drop it directly into a Collection.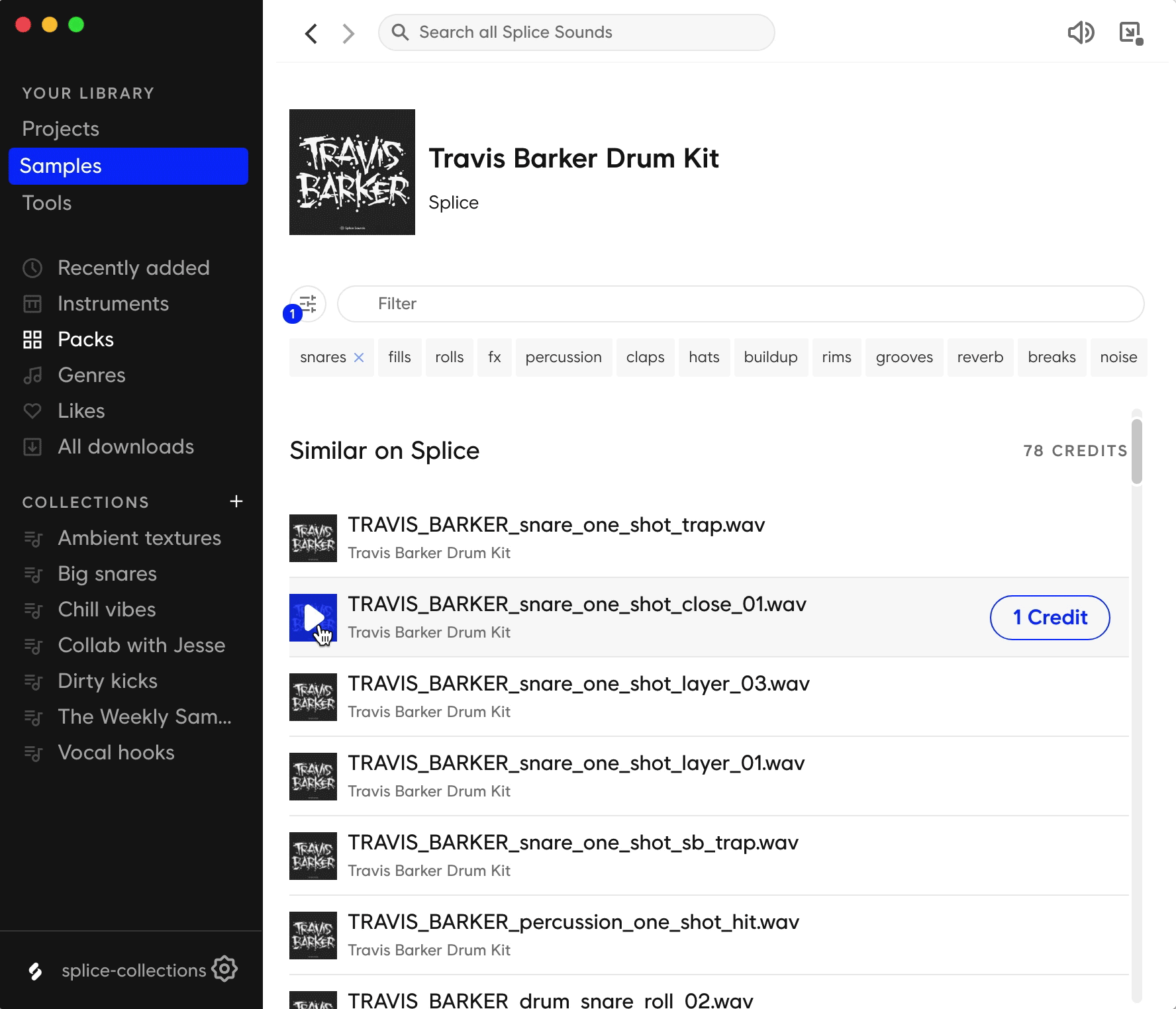 Share your favorite sounds with collaborators and prepare for future projects
Get your collaborators or clients on the same page by sharing a private link to your Collection of sounds for the project at hand. Share musical ideas based on moods, soundalikes, soundscapes, and more.
Collections also save you time on your next project. No more scrambling last-minute for the perfect sound. Have what you need to get started right at your fingertips, curated for the way you work best.
Get inspired by other artists' Collections
Anyone who uses Sounds has the option to make their Collections public. That means opportunities to browse and discover sounds you didn't know existed. You may find the perfect sound for getting your project off the ground.
We know there are a lot of samples to browse through on Splice Sounds. Exploring highly curated Collections is a great way to limit your listening to top picks. For example, you can stay current with the sounds today's leading producers are using to make their tracks by subscribing to our Weekly Sampler.
Get started building your Collections
Spark some inspiration by checking out our featured Collections such as 90s Boom Bap, Vocal Toolkit, Modular Synths, and more. Sign into your account to get started.
Not a Splice Sounds user? Create an account now.
June 17, 2019