Illustration: Leonard Peng
When it comes to promoting your work, it can be tough to know where and how to allocate your energy.
We believe building an email list should be high on any artist's priority list. Here's why: a person's email inbox is precious real estate. They've likely done their best to prune and curate what reaches their eyeballs, and what gets sent to the dreaded spam folder. Subscribing to receive your newsletter or email updates is the ultimate signal of interest and intent to support you via an album purchase, tickets to a show, buying merch, and so on.
Email is less fickle than social media. Instagram and Twitter are always changing their algorithms and Snapchat and TikTok are more about engaging with your fans on a personal level and less about promoting your art (though I'm sure some would disagree with that).
Email provides you greater control of your information, and assurance that it will be received by folks who are interested in it.
Planning your email strategy
Before diving into growing your email list, here are a few tips for getting your newsletter program set up.
Decide on your email newsletter service provider
Like anything, the newsletter software you choose will depend on your goals, style, and budget. Some popular options include Mailchimp, TinyLetter, Constant Contact, and FanBridge.
Read reviews of each and check out their pricing and feature pages while considering:
How often you'll send emails
How many subscribers you'll have
How much customization you'd like
Which offers the templates that are best for you
How their emails render on mobile
Ease of use
Anything else that's important to you
When estimating how many subscribers you'll have, factor in your volume of social media followers, subscribers across streaming platforms, show attendees, album purchases, etc. Your email list will be a small fraction of these (again, you're asking for permission to enter precious real estate), but tallying those numbers should help you form an idea.
Develop your voice and tone
As an artist, you've likely established a style of speaking or engaging with your fans onstage, in the press, and/or on social media. Carry this voice into your email. Try to make it feel like you're sending a personal note to your listeners, even if your newsletter looks like a newsletter (rather than a note). If you have someone else managing your email campaigns, ensure they have an understanding of your voice and tone and consider reviewing the emails before they send them.
Establish a rough schedule and editorial calendar
Artists are one of the few groups who can send their emails somewhat sporadically and still have an effective email program. Sending a weekly, bi-weekly, or monthly newsletter is less important than sending one when you need your fans' support the most.
That said, the content you choose to share is important. Be intentional. Look at your release, touring, and marketing calendars to see what big announcements you have coming up and when. Plan your emails accordingly based on that schedule.
Some ideas of what to share in an email include (but certainly aren't limited to):
Announcing release dates (with a call to pre-order or pre-save)
Announcing a single/album release (with a call to purchase or stream)
Announcing tour dates (with a call to purchase tickets)
Sharing a tour diary (for the super fans – even better if you include videos)
Sharing new merch
Crowd-sourcing venues to play, places to stay, eateries to try, etc. (your fans will enjoy being a part of your process!)
Presenting unique opportunities to engage with you and your music
Sharing notable placements of your music in press, podcasts, etc.
Announcing crowdfunding campaigns
Sharing exclusive access and opportunities (detailed below)
It's best to err on the side of brevity in today's short-attention-span culture, but feel free to try different approaches to your email program. Maybe you'll include several announcements in one email, and then try sharing just one in the next. Check out the stats on your email platform to see what your subscribers are clicking on and responding to. Also use this data to consider future send times and days of the week, subject lines, greetings, and any other factors.
Keep a calendar of your email schedule and set reminders, giving yourself plenty of time to compose and schedule each one.
Places to display your email list
Now that you have a system, let's walk through where to display your email list so that you can build it efficiently.
Add a subscription option front-and-center on your website
When a fan visits your website, they should be able to easily subscribe to receive updates about your releases, tour schedule, special events, etc. Put a subscription option in your main header.
Missy Elliott's website has a scrolling menu bar with "SUBSCRIBE" as one of the options (see above), which leads you here:
In addition to "SUBSCRIBE," other copy ideas for this page could be "GET UPDATES" or "BE THE FIRST TO KNOW."
Add a call to subscribe to a few places on your homepage, including in your footer. If you have a news or blog section on your website, definitely add one in the sidebar there too.
FKA twigs bundles pre-sale details with newsletter subscribers toward the end of her website:
Many websites use pop-up email collectors for growing email lists. Programs like SumoMe offer a dedicated plugin and Mailchimp offers a pop-up option. They typically look something like this: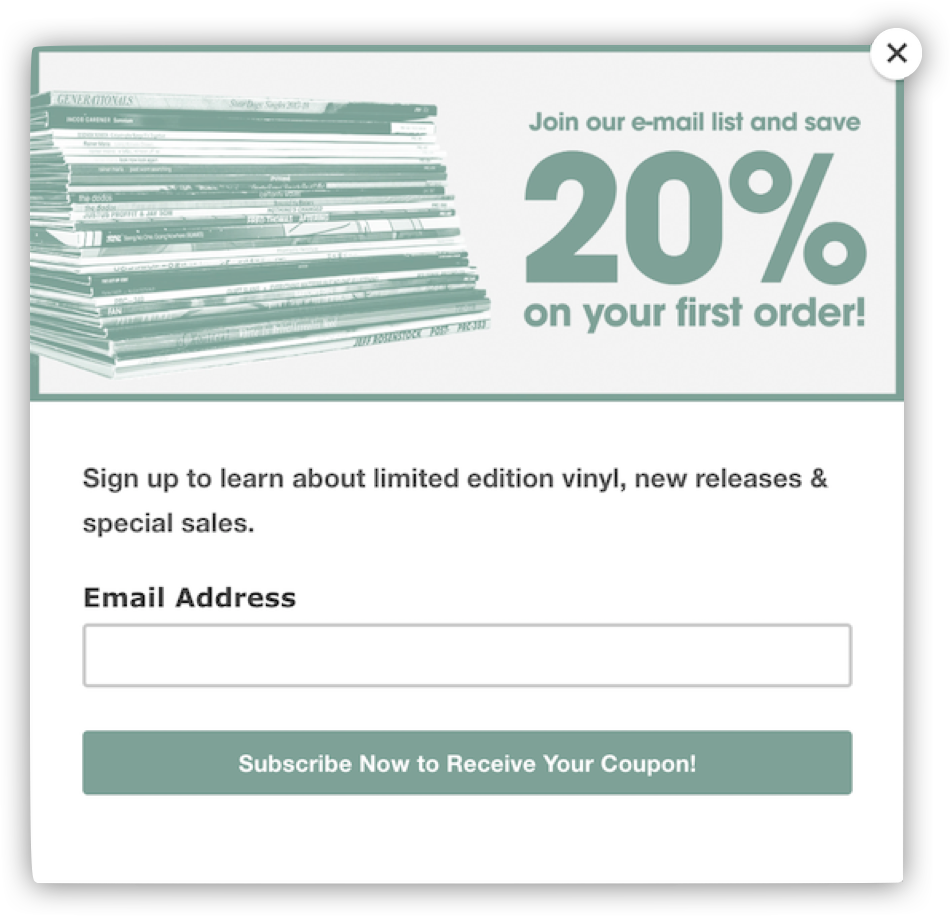 You should have the option within your pop-up provider to time its appearance based on how much time a visitor has spent on your site, how many pages they've visited, or how far down they've scrolled on a given page.
Personally, as a website visitor, I'm not a huge fan of pop-ups; I find them a bit aggressive. That said, there's no denying that they've been an effective tool for many websites. If you choose to use one, make sure you don't hit your visitors as soon as they land on your website. Time it after 20 seconds or so, or after they scroll halfway down. You can even get scientific and base your timing on your website's analytics. Make sure your pop-up renders nicely on mobile, and is easy to complete or close out on mobile and on desktop.
How to grow your email list
Below are some additional strategies for engaging your fans and growing your email list.
Add a link to subscribe across social media and streaming platforms
Consider using a link aggregator for your social media bio link like Linktree or lnk.bio. These allow you to link to several places from your Instagram or Twitter bio. Include a link to subscribe to your newsletter towards the top of your link list.
Then, share the news of your new newsletter in a post and story, if relevant, across platforms. If you have the "Swipe up to read" feature on Instagram, take advantage of it to link directly to a subscription form (you can get this from your email newsletter provider).
Collect email address with Bandcamp downloads and follows
If you distribute your music on Bandcamp, when a fan buys something or follows you, they're automatically given the option to add their email to your mailing list. The email addresses get aggregated to a spreadsheet you can then use for a mailing list (here's more information on how to do it). This feature is an excellent opportunity to engage with folks who are already supporting you while making the subscription process seamless.
Offer exclusive and early-access offers to your subscribers
Offering your fans something unique they can't get anywhere else can be an effective way to grow your newsletter list. Consider announcing new singles, albums, merch, tours, and in-store, intimate, or special appearances to newsletter subscribers before anyone else.
Tours can be especially huge, since tickets can sell out fast. Or, if you're pressing a limited-edition vinyl or printing a limited-run shirt, offer them to your newsletter subscribers first. No matter the extra value you're offering, run a campaign across your website and social media to build awareness of the offer. This can be done with language along the lines of "Sign up for updates and to be the first to know about…"
Include a call to forward your email to friends
At the bottom of each newsletter, add an option for readers to forward to a friend. Include a message along the lines of "Know someone who'd want this news? Forward to a friend," with a link to your subscription page. Folks can forward any email without being prompted, but this will give them an extra nudge to spread the word.
Try a giveaway
People love free things. This is a bit of an age-old tactic for building a list, and it can get expensive fast if you get carried away, so you have to be thoughtful and strategic.
Tickets are a low-risk giveaway because you likely get guest spots anyway, so giving a pair away won't cost you anything. Physical media or merch, however, can get pricey to give away, especially when you factor in shipping costs.
Consider paid ads promoting your emails
To spread the word of your new newsletter, consider running a paid social media ad campaign to current fans only. We suggest focusing on fans because if someone doesn't know about your band, they won't care about your newsletter. Within paid ad platforms across social media channels, you can target your campaigns to be presented only to your current followers.
If you have a list of emails from folks who've bought an album from you in the past, you can also serve ads to them, even if they don't follow you. In that case, you may gain some social media followers as well.
Send an email to people who've purchased an album
If you have access to the email addresses of people who've purchased an album, send them a one-off email telling them about your newsletter and asking if they'd like to subscribe (with a link to do so). If you have the time to email them individually, even better. Make sure they know this is a one-off email and that they have not been added to any list without granting permission.
That is, unless your point of sale system lets buyers opt-in to receive any emails from you and your organization. In that case, you can automatically add those folks to your list. Whether you use Shopify, Big Cartel, or another program to host your e-commerce store, look into what email options they offer. This is an easy way to build your list and an effective method to reach those who you already know want to hear from you.
Watch out for your sender reputation
Certain activities can trigger inbox programs like Gmail or Outlook to mark your newsletter as spam. According to Campaign Monitor, your email engagement rates impact whether your email gets sent to a recipient's inbox or spam folder. As you continue your email program, pay attention to open and click-through rates. Campaign Monitor says a healthy and active list usually has an open rate of 18% and above. Email deliverability can get a bit technical – check out this article from Mailjet for some easy-to-follow tips.
Put a signup sheet at your merch table
Last but not least, go old-school with a piece of paper and pen on your merch table for show attendees to sign up for your newsletter. This will only work if your table isn't a total mob, but it's worth a try.
Final thoughts
Let's be real: running a newsletter or email campaign could be seen as one of the less glamorous aspects of being an artist. But it can also be a lot of fun! I've spoken with artists who enjoy sitting down with a good cup of coffee or a nice tea and writing a personal note to their fans, or even better, reading the responses. Think of it as an outlet to express yourself, and share your news how you'd like – without having to worry about algorithms or whether or not people saw it.
Have you successfully built an email list? What are your tips? Leave them in the comments below.
---
Continue learning how to build and sustain your career in music:
February 25, 2020