Photos by Nathaniel Wood
Andres Torres & Mauricio Rengifo can write a Billboard hit in two hours.
Whether it's a studio session with Luis Fonsi, Justin Bieber, Demi Lovato, or Sebastian Yatra, the pop-meets-Latin music masterminds can record, comp, produce, and bounce a song in time for brunch. "The perfect session for us," Andres explains, "is writing a song in two hours. Then producing for eight or nine, bouncing, and then you're done and you send a mix. That's what we do."
A typical formula for one of their productions goes as follows: classical guitars, cumbia-infused grooves, a modern pop flair (EDM kicks and drums), and of course, an earworm melody. From their first record-smashing, worldwide hit "Despacito" by Luis Fonsi, Daddy Yankee, and Justin Bieber (ever heard of it?) to their latest "Un Año" by Sebastian Yatra and Reik, Andres & Mauricio abide by this recipe – one that's earned them Grammy wins and nominations, billions of streams across platforms, Billboard certifications, and much more. To an average listener, the tracks they've produced might sound fairly straightforward. But the key to the Andres & Mauricio sound lies in its deceptive simplicity. Bubbling below the main sounds are layers and layers of expert tinkering and manipulation.
Take their newest single for instance, the earnest pop confessional "Un Año." The track has been charting on the Billboard Latin charts for six weeks and has racked 300 million streams across platforms. The duo had worked with Colombian-American singer Sebastián Yatra on nearly all of his past albums, but they decided to try something new for this record – crafting a song that sounds full with only guitar and vocals, but is actually chock-full of additional sounds. Adding these extra layers transforms a quick guitar comp into the lush, professional-grade sound that's their signature. "The vibe [of the song]," Mauricio explains, "is a good way of lying and telling everybody, 'This is only a guitar and a vocal.' Everything has to be hidden under that guitar to make it sound like it's a million-dollar guitar, even though it's a lot of other stuff."
What makes this guitar sound, in their words, sound like a "million-dollar" guitar? Like anyone trying to make a million dollars, it's just a little bit of smart investing. In the case of Andres & Mauricio, their investments come not in bonds or stocks, but in sounds. After recording guitar, they felt the song was lacking in dynamics, so they started loading samples from Splice into Native Instrument's Battery. "To make the chorus bigger," Andres elaborates, "we added samples that sounded like a guitar. So there's like a clap, snap, ride, and shaker that sound like they're from a guitar." These percussive elements, mimicking the palm muted strum of an acoustic guitar, beefed up the record and gave the guitar the extra space it needed. To fill out the low end and give the track a bass groove to follow the guitars, the duo added an 808 sample. "We decided a big 808 was the symbol of the chorus," Andres continues. "We put it in a sampler and changed the notes, and that's it. There's a lot of editing on the guitar to make it fit the sample exactly so that you don't hear it."
Adding just a little bit of oomph to elevate an artist's recording is the foundation upon which Andres & Mauricio have built their stake in pop. The pair met in Colombia, which itself has a vibrant musical history, interwoven with a rich tapestry of different regions, cultures, and sounds. Colombian music incorporates all types of Latin sounds, from cumbia and vallenato to salsa and classical, and it's easy to hear how their origins are reflected in their take on pop music. They met in 2015 – Andres was a session musician and drummer, and Mauricio was part of a band called Cali Y El Dandee. "I used to play drums with them," Andres recalls, "and we were both into producing at a really young age." Fast forward a bit to Los Angeles, where both of them had moved to pursue music. "We decided – ," he continues, "why don't we try producing a song together?" Their combined efforts blossomed into a full-fledged project with Puerto Rican singer Luis Fonsi. The collaboration developed into Vida, Fonsi's breakout album, which spawned hits like "Échame La Culpa" with Demi Lovato, "Calypso" with Stefflon Don, and of course, "Despacito." "The Luis Fonsi album clearly changed our lives," Andres says. "That's where our team started."
"Despacito" received the Latin Grammy for "Record of the Year," was certified diamond, sat at #1 on the Billboard Hot 100 charts for 16 weeks, and is still currently the most viewed YouTube video of all time (with 6.1 billion views). To say the least, their work with Fonsi definitely changed their lives. They continue to produce for him, but have also branched out towards new collaborators like Sebastián Yatra. "We've seen how [Yatra] has grown, how he is becoming one of the most important stars in Latin music, if not music period. Fonsi is like a mentor to us, but Yatra is a guy we have seen grow and become this huge star."
The duo uses the word "simple" quite a bit to describe "Un Año" and why their latest with Yatra works with audiences. "It's almost a lullaby kind of song," Andres explains. "Simple lyrics, simple guitar riff. We actually never get to write these kind of songs. This one's way more simple, and that's why everybody's loving it. It's a simple story and it touches your heart." That said, the complexity comes through in the multi-layering of the instrumentation and the additional meticulous sound design around the song's vocals.
"You can hear almost one vocal," Mauricio explains. "But look at the session and there's a bunch." Although one take of Yatra's voice sits front and center in the mix, there are nearly 50 vocal tracks, each with different types of reverb and careful automation curves. "We automate [reverb] to emphasize certain words or feelings," he continues. "We start dragging in each word, whatever word we want, and then we comp everything into one small track that we send to the mixer."
The process of taking a vocalist or collaborator's performance and then tweaking, resampling, and manipulating it in Pro Tools can take hours, but Andres & Mauricio pride themselves on their ability to work fast. In fact, they produced "Un Año" in only 10 hours. "One thing we hate is overthinking," Mauricio says. "So even though you're seeing a lot of work, any of those tracks took no more than 30 minutes to do, because we like to do things fast. And if it doesn't sound good, you erase it, right?" Their fast pace and diligent producing allows more efficient collaborations as well, thanks in small part to Splice. They like to prepare samples and sessions ahead of time, spending hours downloading packs and samples. "We'll [download] a pack that we know, 'this is the pack that I'm gonna use if I'm gonna produce this song,'" Andres says. "Because artists will get bored – when you have an artist on the couch and you're like looking for kicks… it's not cool."
What's most impressive about Andres & Mauricio's collaborative work is not the vocalists who they get into the studio – whether it's Fonsi, Bieber, or Yatra – but their creative synergy. There's an unspoken energy between the duo, who seem at all times aligned on the direction of a song, the missing elements of a recording, or the bits of Colombian flair that they incorporate into their productions. "Of course we have different tastes," Mauricio says, "but what's fun about our team is that we complement each other and it changes from song to song. When one of us wants to be simple, the other one wants to complicate stuff. In pop music you cannot be too simple and you have to have the right amount of novelty in each production. It changes from song to song."
"I think it changes," Andres says, "because we produce pop music."
The duo's ability to challenge and expand conventional notions of pop music is what makes their track record all the more exciting – the fact that they've been able to propel Latin music into worldwide popularity without sacrificing the sounds and flavors of their heritage speaks volumes to where listeners are willing to go. As Latin music rises into the mainstream, Andres & Mauricio are carving the sound of pop's future. "Un Año" is just the latest of their crossover hits, and they couldn't be more excited by its success. "We're very, very happy, especially because of the kind of song that it is," Andres says. "There's a lot of urban music now and a lot of reggaeton, and it was a risk to do a ballad like this. Every time that we see Yatra on Instagram and he's singing in some city and the whole crowd is singing every word, it makes us very happy to know that these are songs we can do, and that they can be hits."
Mauricio hopes that their productions can inspire young musicians to expand their musical horizons. "It's cool to inspire kids that are DJs and are making big songs at their house to grab the guitar, their father's guitar or whatever, and learn to play it to make their tracks more interesting," he says. "You would think that everybody knows a guitar, but an eight year old that's been listening to beats for his eight years of life probably doesn't know how an organ sounds, right? So these types of songs kind of bring real instruments back into the conversation, and it's cool that they're hits, too."
The simplicity of "Un Año" as a song matches Andres & Mauricio's ethos: don't overthink. "People have to work a lot but not overthink a lot," Mauricio says. "A lot of young producers are spending too much time finding kicks, and they have to realize that the important thing is the song. Kicks are important, but find the one you like, EQ it, and print it. The most important part of the process is the song."
"Be prepared for everything," Andres adds. "Be prepared for a session. Be prepared with your samples and all that stuff so that you're ready when the opportunity comes to produce that song that changes your life." He continues, "It's also a matter of organizing samples and your sessions. When the song comes and you know how to produce it, you win."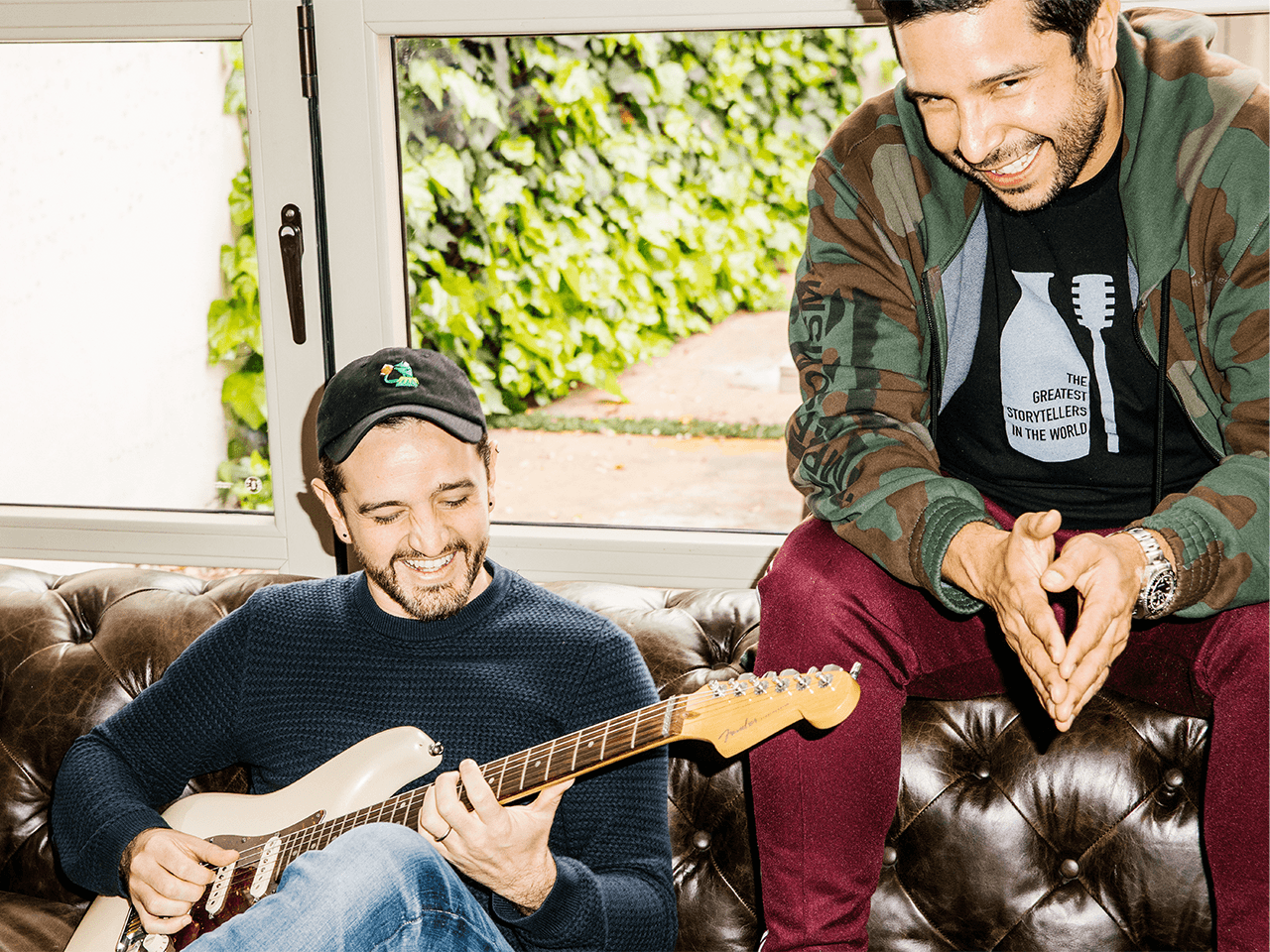 Craft a Billboard-worthy production of your own with the official sounds of Andres & Mauricio.
April 19, 2019