Voxengo is the brainchild of Russian plugin developer Aleksey Vaneev. Its plugins are designed to cover a broad range of both creative and technical audio tasks, balancing the powerful functionality that's demanded by seasoned producers with an ease of use that's essential for those new to the game.
Starting now, Voxengo plugins are available on Splice while you are creating music, the moment inspiration strikes. You can sign up for Splice and instantly download a dozen free plugins or purchase all others and save 30% for a limited time. You can also browse our plugin pages to watch videos, read reviews and explore full projects on Splice that feature these plugins and many more.
Among Voxengo's ever-growing roster of plugins are five free tools that every producer can use in their projects. Check out this demo project, where we feature five free Voxengo plugins to add warmth, depth, and character to the mix. You can also read more about each plugin below.
---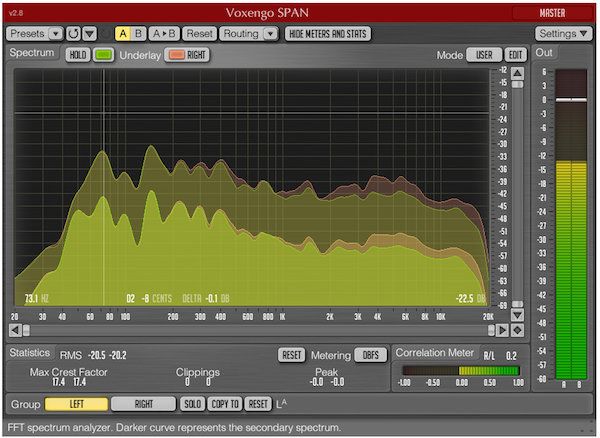 Voxengo SPAN is a powerful spectrum analysis tool that provides you with a wealth of customizable options for scrutinizing your audio tracks. SPAN allows you to easily identify key frequencies in the signal and provides you with their corresponding note values, allowing you to make more informed mix decisions quickly.
In Session: "The Kick Drum is the centerpiece of any dance track. By analyzing the frequency spectrum of the Kick Drum, we were able to discover the exact place it occupies in the mix and adjust the other tracks accordingly to let it breathe."
---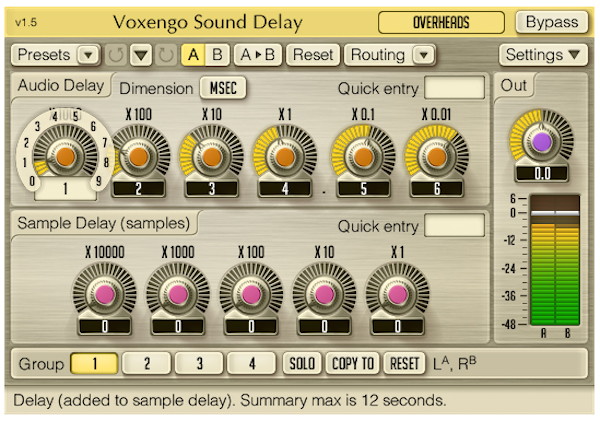 Voxengo Sound Delay is a delay module that allows for precise millisecond and sample delay specifications. Through the use of knobs or value fields, you can quickly specify the exact amount of signal delay time that you need. Voxengo Sound Delay also has the ability to delay mid and side channels independently, allowing you to create spacious textures that cover the entire stereo spectrum and sound huge in the mix.
In Session: "The Clap pattern was a bit dry and focused overall, so we used Voxengo Sound Delay to bring it to life a bit. By dialing in the delay to 40 milliseconds, it creates a slight flamming effect with the other drums that gives it some splash and makes it seem a bit more spread out."
---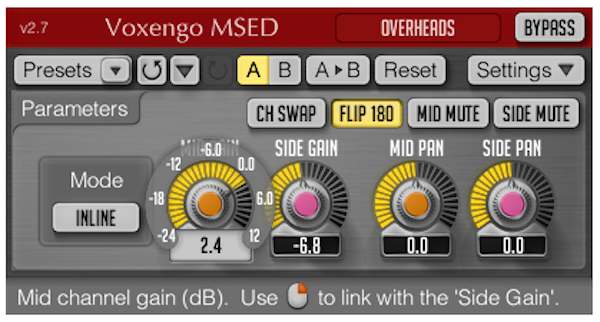 Voxengo MSED is a utility that allows you to convert stereo signals in to mid-side signals and vice versa. The mid-side method approaches stereo field imaging in a relatively unconventional way; rather than mixing one stereo track, or mixing one left channel and one right channel, you instead have one mid channel and one side channel. The mid channel is comprised of the information that would have been identical in both the left and right channels
everything that is the same from both speakers, while the sides channel represents all that was different about the two sides. Sum and difference. This can be extremely useful depending on which approach is most appropriate for the material you're working with and which best suits your mixing style.
In Session: "We loved the sound of the Raver Piano track, but it didn't have enough field depth or image. With Voxengo MSED, we were able to convert the stereo signal to mid-side which allowed us to spread the frequency spectrum out more broadly, giving it the focus it needed in the center with plenty of air left on the sides."
---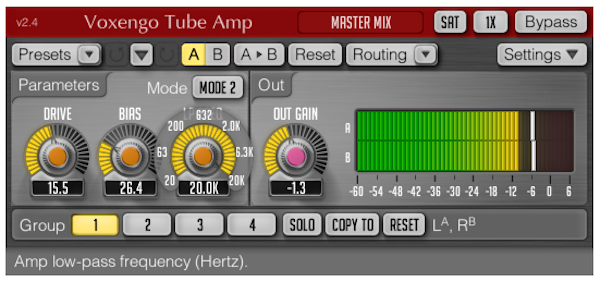 Voxengo Tube Amp can be used to add a bit of tube-style warmth to any signal, ranging from subtle saturation to full on tube-saturated overdrive.
In Session: "The Bass pattern was killer, but we felt like it needed a bit of presence in the mid range. By adding some subtle color variation and saturation using Voxengo Tube Amp, we were able to bring the top end of the bass track forward in the mix and add more mid-range focus."
---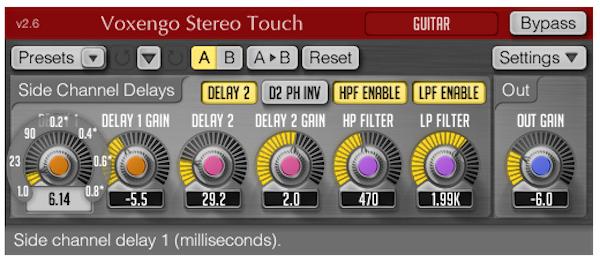 Voxengo Stereo Touch is a stereo widening effect that will among other things allow you to split any mono signal in to a stereo pair, regardless of the source material. This is especially useful for mid-high and high frequencies that tend to require more spread and less focus.
In Session: "We wanted the Hit track on the downbeat to sound huge. The easiest way to do that was to throw Voxengo Stereo Touch on it to widen it up and bring it all the way to the outside of the stereo field."
February 18, 2015