Southeastern Morocco stands as the gateway to the great expanse of the Sahara Desert, opening up to the big dunes that extend towards Algeria, Mali, and Mauritania.
This region, known as the Drâa Valley, features lush oases that follow the Drâa River and house vibrant and diverse cultures, which stand in stark contrast to the surrounding mountainous desert terrain. In this article, we examine the unique sounds that are born and preserved in this region.
A kaleidoscope of sounds
For millennia, the Drâa Valley welcomed bands of nomadic travelers from Sub-Saharan Africa, other parts of Saharan Africa, and from the Arab world, who over time settled within the different oases in the region. These ethnic groups still remain, each practicing and preserving their traditional cultures. Before the production of the Sounds of Drâa Valley, Morocco sample pack on Sonic Collective, some of this music had never been professionally recorded before, and these traditional cultures, hidden in rural villages throughout the region, still remain largely unknown throughout Morocco.
Preservation and promotion
Elder musician and band leader Ahmed Zouaoui began performing Akalal music when he was four years old. Native to the rural town of Timtig, tucked away within the Fezouata Oasis, Zouaoui belongs to the Daraoua ("of Drâa") ethnic group.
This group actually comprises several ethnic groups who originated from different parts of Sub-Saharan Africa centuries ago, and who have been largely responsible for maintaining the oasis ecosystem in the region since their arrival. Their music reflects this livelihood, from the good to the bad, with lyrics often referring to their natural surroundings, and instruments and dance movements harping back to the times of war between tribes.
Group Akalal are leaders in Timtig in preserving and promoting their cultural and ethnic identity, and through this pack, Zouaoui wants the world to know about their sounds. "I want the world to hear this music and ask, 'Where is this music from?'" he tell us. "This is Akalal music from Timtig."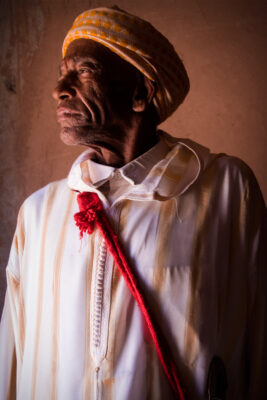 Ahmed Zouaoui
Identity and ownership
Gnawa music is famous throughout Morocco, and in 2019 was included by UNESCO in its list of Intangible Cultural Heritage of Humanity. Ganga music—traditional Gnawan music specific to the Drâa Valley—is lesser known, and traces its roots directly back to the slavery, which in certain villages in southeastern Morocco only extends back three generations in some cases.
Handheld metal instruments meant to reflect both the look and sound of chains (Krakech) coupled with booming drums and group call-and-response lyrics that discuss Gnawan ancestry and enslavement present a powerful picture of a marginalized group that has overcome hardship and suffering. Ganga music represents a celebration of what has been overcome and an ownership of a distinct cultural identity.
Desertification, lack of economic opportunity in the region, and a sequential and sharp rural-to-urban migration have resulted in a loss of this traditional knowledge, and elder musician Mohammed Berkaoui recognizes the importance of recording this music, not only to keep Gnawan heritage alive, but to promote it in new ways to youth to reinvigorate its practice. "Recording Ganga music in this way can help bring youth back to this music so it doesn't disappear," he says. "This is important for us to preserve our heritage."
Mohammed Berkaoui
Embracing the sounds of Morocco
The Playing For Change Foundation approached local cultural actor Halim Sbai in 2015 to create Joudour Sahara ("Roots of the Sahara"), a music school that embraces these cultural heritages. Sbai descends from nomadic ancestry of the Aarib people, who have roamed the Sahara Desert since bands of nomads came into North Africa from the Arab world in the 11th century. They perform several types of traditional music, of which Hassani is featured on this sound pack. Hassani music is prominent throughout southern Morocco, Mauritania, Algeria, and Mali, where Aarib people are settled.
One of many things Joudour Sahara offers is workshops in the Gimbre, a three-stringed traditional bass instrument practiced by Gnawan people throughout Morocco. Local Gnawan musicians led by Gimbre instrumentalist and vocalist Azzedine Ait Faraji are also featured on this pack, combining the Gimbre with Krakech and traditional Gnawan lyrics that offer a different take on Ganga music. "We don't have opportunities like this to record and promote Gnawan music from this region to the rest of the world," Faraji reflects.
Today, Joudour Sahara has engaged more than 200 traditional musicians, and currently has more than 100 music students who learn both traditional and modern forms of music.
---
Engage with the sounds of Drâa Valley, Morocco in your own music:
April 6, 2022