There's no wrong way to use Serum in Ableton, but there are definitely some best practices and creative hacks to help you be more efficient. Read on and see for yourself (and if you don't have Serum but want to check it out, you can get a 3 day free trial here).
#1. Customize your default Serum instance
Click on the triangle next to the wrench to pull up the VST/AU configuration panel.
Once you click "Configure," any parameter you click on inside Serum will map to the macro controls. Here's some of the parameters I chose:
Macros 1-4, Wave table position for Oscillator A & B, Filter Frequency and Portamento
This is especially helpful when you have a MIDI controller and want to quickly manipulate Serum's parameters.
Lastly, map the X-Y pad to 2 of the parameters we selected. I chose Macro 1 and Macro 2. Then, right click on the device title bar and select "Save as Default."
#2. Use Instrument Racks to save your favorite Serum presets
Select the Serum device title bar and hit CMD+G. This will turn Serum into an Instrument rack which you can save by hitting the floppy disk icon at the bottom left. I prefer naming these as "SRM – Example." This way, I can use Ableton's powerful search to find my Serum presets quickly.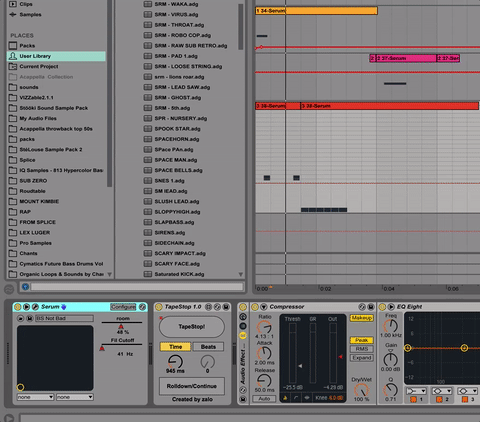 A best practice is to save your default Serum instance inside an Instrument Rack named "srm." That way, when you want to add a new instance of Serum all you have to do is hit CMD+F, then type "srm."
#3. Take a screenshot of your MIDI patterns and use them as wavetables in Serum.
Take a screenshot of your Ableton set, then drag the screenshot into Serum's wavetable window. This is easier if you add your "Desktop" as a shortcut in your "Places" inside the browser. If you take a screenshot of Serum itself, then it's like Serum Inception.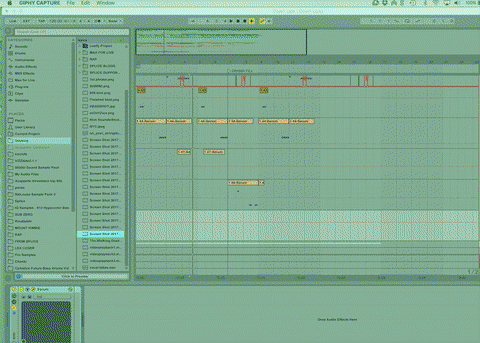 #4. Add Serum parameters into automation lanes
Dedicating automation lanes to Serum's parameters gives you more real estate on your screen for automation.
You can also click on the plus icon near the track title bar.
#5. Resample Serum into itself
First right click on the Serum track title bar and click "Freeze Track." Once it's frozen, add a new audio track using CMD+T. Lastly, OPTION+Drag the Serum midi clip to the audio track.
These are five of my favorites, but I know it's not all of them. Have any hacks that I missed? Drop them in the comments!
Try Serum free for 3 days
Rent-to-Own for just $9.99/mo.
March 24, 2017