Arturia
V Collection 9
Explore the timeless timbres of yesterday and craft the sounds of the future. Arturia's V Collection 9 contains 32 instruments, including 4 new titles—Korg MS-20 V, SQ80 V, Augmented Strings, and Augmented Voices—and an updated CS80 V, Piano V, Prophet-5 V and Prophet-VS V.
Try free for 3 days
Pause or cancel at any time
No hidden fees or interest
Compatible with macOS and Windows.
Available as Standalone, VST, AU, and AAX.
Analog Synths
Enjoy the same controls, sequencers, and even idiosyncracies that made these instruments some of the most influential analog synths ever played.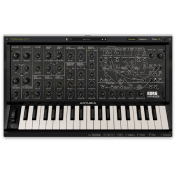 NEW: Korg MS-20 V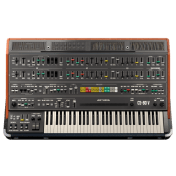 REBUILT: CS-80 V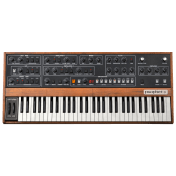 REBUILT: Prophet-5 V

Jun-6 V

OB-Xa V

Vocoder V
Synthi V

Buchla Easel V

Mini V

Jup-8 V

Modular V
Matrix-12 V

SEM V

Arp2600 V
For sound explorers in search of the meaner side of analog. From punchy analog textures to abrasive screaming sounds, explore a flawless emulation of a primal instrument overflowing with attitude and streamlined for modern production.
NEW: Augmented Series Instruments
In this latest V Collection update, Arturia introduced the new Augmented instrument group, featuring two new hybrid instruments that combine aspects of physical modeling and synthesis architectures from the minds behind Pigments.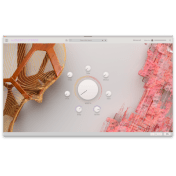 NEW: Augmented STRINGS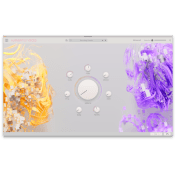 NEW: Augmented VOICES
An innovative instrument that combines rich sampled strings with state-of-the-art synthesis, giving modern producers immediate access to a comprehensive range of authentic, abstract, and evocative string sounds.
Digital Synths
Play the digital synths that helped redefine pop music, scored countless films and TV commercials, and gave musicians their first taste of electronic music at home.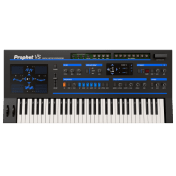 NEW: Prophet-VS V
NEW: SQ80 V
Emulator II V

CZ V

DX7 V

CMI V

Synclavier V
Rebuilt as a new standalone instrument, capturing the evolving sounds of vector synthesis, pioneered by the Prophet VS. Assign any of the over 450 waveforms to one of 4 oscillators, then seamlessly trace a path between them for ever-changing timbres.
Pianos & Keyboards
These emulations of classic electric pianos and keyboards are physically modeled recreations of the originals. Arturia's taken everything into account, including cabinet materials, string tension, and mic positions.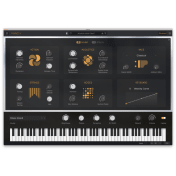 REBUILT: Piano V

Mellotron V

Stage-73 V

Clavinet V

Solina V

Wurli V
Arturia used their advanced physical-modeling tech to map out the tonal responses of 12 classic pianos, from concert grands to experimental ivories made from metal and glass. Fully control the treatment of the strings, hammers, sound board, cabinetry, and mic positions.
Organs
The holy trinity of iconic electric organs, Arturia's implementations have everything that made these instruments favorites among gig musicians, except a resistance to spilled drinks.

B-3 V

Vox Continental V
Farfisa V
The Hammond B-3's transistor design and electromagnetic tonewheel gave it a beefy sound that other organs simply couldn't have, making it a constant companion of musicians since its release over 50 years ago. Arturia's homage includes a rotary speaker and drawbar modulation for syncopated effects.
Experience Arturia's Analog Lab V
Get instant access to every preset from all of V Collection 9's instruments, in one smart interface. Analog Lab V is your go to personalized arsenal for studio and stage, with intuitive browsing, custom playlists, easy sound mixing & layering, and much more.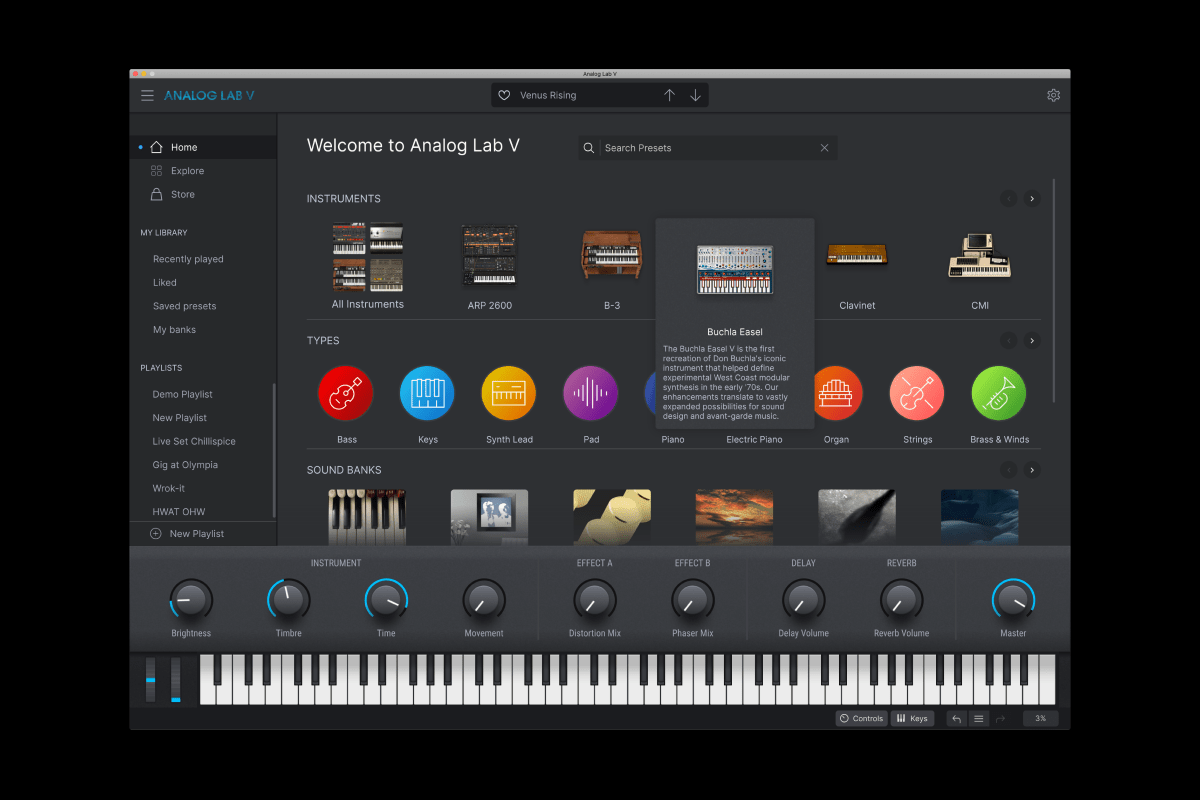 Find your flow
Witness the latest and greatest V Collection experience, with presets for every instrument, 14 new sound banks across a range of styles, and improved performance to keep you in the creative flow. Devised by passionate musicians, producers, and engineers who understand the importance of a fluid music making process, V collection 9 is built to be intuitive, accessible, and enjoyable.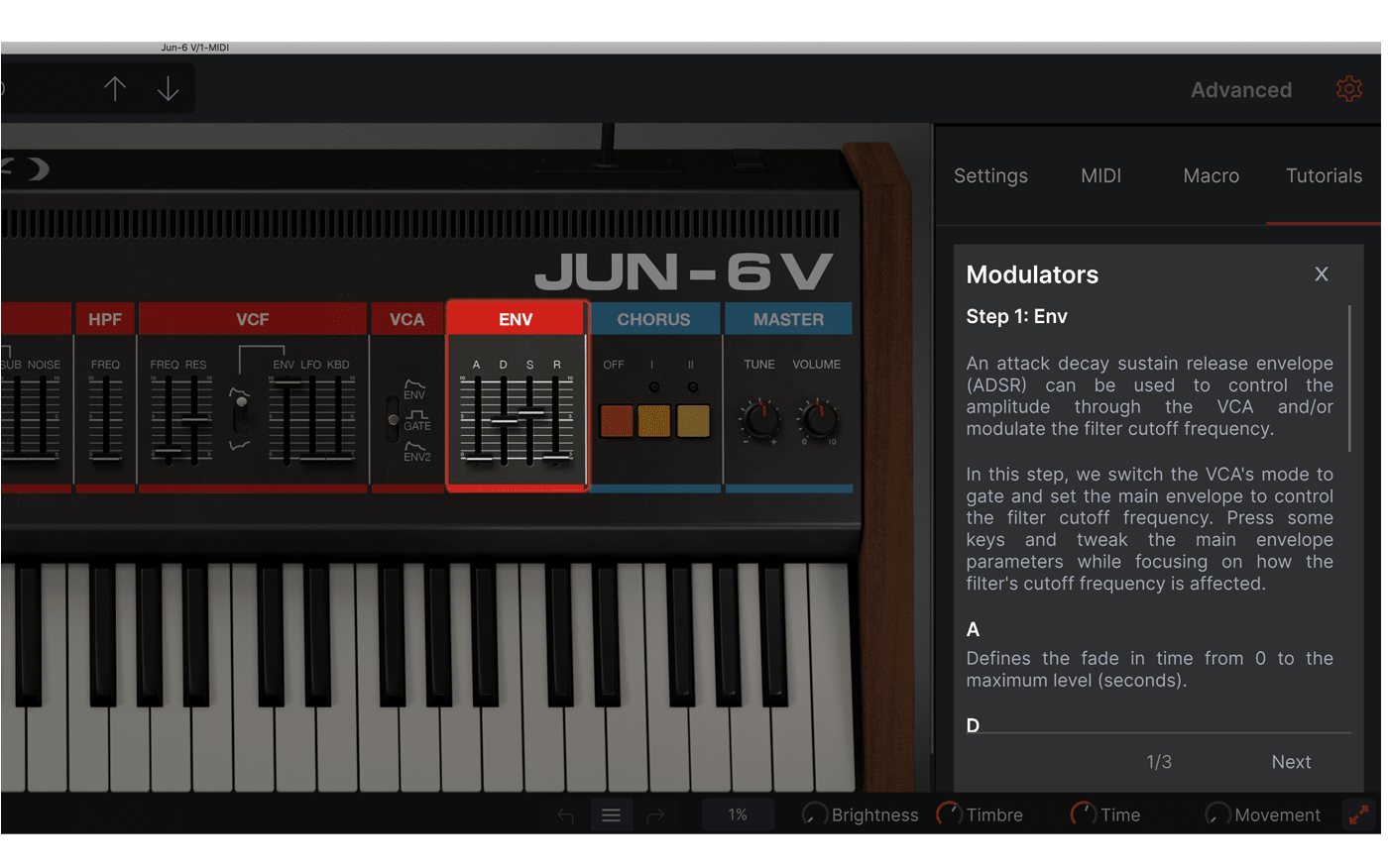 V Collection 9 puts some of the most influential instruments at your fingertips with circuit-accurate recreations of iconic analog synths, digital synths and samplers, acoustic & electric pianos and organs, along with their brand new Augmented acoustic instruments.
Arturia's proprietary algorithms and physical modeling ensure that each instrument sounds like the original, and this obsession over accuracy isn't just relegated to the instruments' expected sounds. They've also reproduced the idiosyncrasies that made them more memorable, including infamous drifting oscillators, timbral qualities of the speaker cabinets, and the obtuse workflow of some of the sequencers. Unlike the original instruments, these are augmented with features that fill them out, like effects, presets, and different mic positions.
What's included:



- Includes 32 software titles: Korg MS-20 V, SQ80 V, Augmented Strings, Augmented Voices, Emulator II V, Vocoder V, Jun-6 V, OP-Xa V, Mellotron V, Synthi V, CZ V, Analog Lab V, Clavinet V, CMI V, DX7 V, Buchla Easel V, Synclavier V, B-3 V, Mini V, Piano V, Stage-73 V, Matrix-12 V, Farfisa V, Solina V, SEM V, Wurli V, Jup-8 V, ARP 2600 V, CS-80 V, Prophet-5 V, Prophet-VS V, VOX Continental V, Modular V
- More than 14,000 high-quality and innovative sound presets
- With Analog Lab V, all presets of the V Collection 9 can be browsed and edited from a single interface
- All instruments share a common interface for browsing and editing (save, import, export, etc.)
- In-app tutorials allow you to quickly understand the instruments
- High resolution graphic interfaces, compatible with very large displays
- Easy MIDI mapping to any keyboard controller
- Arturia's proprietary technologies, TAE® and Phi®, ensure that each instrument sounds and behaves exactly like the original
For the most up-to-date system requirements and host compatibility details, please visit the manufacturer's website
Mac OS X 10.13+, 4 GB RAM, 4 cores 3.4 GHz CPU
Win 8.1+ (64bit), 4 GB RAM, 4 cores 3.4 GHz CPU
32GB of free hard disk space
Works in Standalone, VST, VST 3, AAX, Audio Unit (64-bit DAWs only)