In between family life, a hectic touring schedule, and competing with Team Kung Fu Holland at the World Championship 2013 in China, Laidback Luke still finds the time to produce club-ready jams. As Dancing Astronaut puts it, "Stepping To The Beat's deep synths and playful vocals make up the original mix's focal points and combine to create an entire package that continues Mixmash's streak of finely tuned club fuel." His latest feat of heroism sees Luke opening up the entire "Stepping To The Beat" Ableton Live session for fans to peruse. Experience the song in the Splice DNA Player. Solo the individual tracks and read Luke's own annotations (can you guess who is behind the vocals?).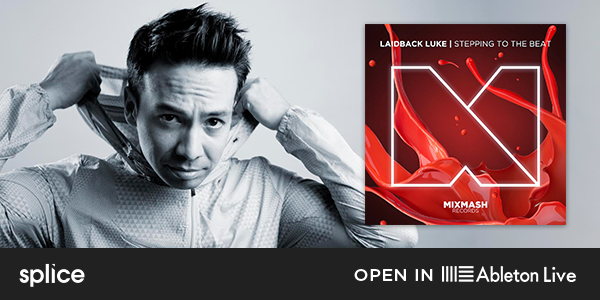 Here's what we're already picking up from Luke's Ableton Live session:
You can learn from the arrangement of the track in a simple and effective way and this track is a great reference for creating similar genre arrangements.
Explore the Utility Tool for gain control in between equalizers to balance the volume of the signal to avoid clipping inside the devices.
Layering a few synths playing same patterns can go a long way in creating a "big" thick sound rather than using just one synth pattern.
A ghost kick is used for side-chain compression, with several sounds being side-chained to it.
"Very much into starting this up with Splice and starting to share my projects with you! I've been known to help aspiring producers out and give advice and tips about producing. This feels like it comes as an extension of it. Now mind you, one major thing I've learned over the 22 years I've been producing, is to keep it simple. And I do! Simple, yet effective and fat. The floor, or any of the majority producers out there, won't care how many crash or hi-hat stems you use. Or that you tweaked 8 hours to get this certain synth designed, which still can't compete to the multitude of amazing synth presets out there. I make music for DJs to play out, and music to dance hard to! And my time, with all the touring, and overall hectic schedule, is super limited. No wasting it ha ha. Hope you can get some easy shortcuts looking into my session, and hope it can help you to be better and effective producer!" – Laidback Luke
November 19, 2014