Splice Studio allows producers to easily collaborate with friends around the world while also backing up their music projects using our free and unlimited storage.
We're proud to announce the release of Splice Studio v2, now offering major workflow enhancements that help you better connect your studio with the Splice cloud and keep even better track of how your music projects evolve over time.
New and Improved Timeline
Splice Studio syncs every project save with the Splice Cloud, so you're always free to create fearlessly with the knowledge that previous versions are kept within easy reach.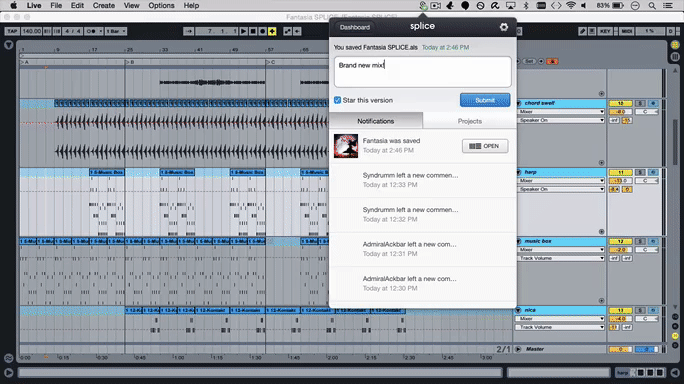 Studio v2 offers advanced features that allow you and your collaborators to view and comment on the DNA of your music projects right from the timeline, making sure that everyone involved is kept in sync with the very latest notes and project revisions. Everything is available right from your browser or mobile device, so there's no need to open the full project until you're ready to get to work.
Audio-Only Projects
Splice Studio v2 allows you to create audio-only projects, which means that collaborators can share their contributions to the project without ever having to worry about plugin availability and regardless of what DAW they use. You can also upload audio stems to any project for greater compatibility and flexibility.
Creating a new audio project is as simple as clicking this icon:
Wondering if you and your collaborators are using the same software is a thing of the past. Simply upload the audio tracks and you're good to go!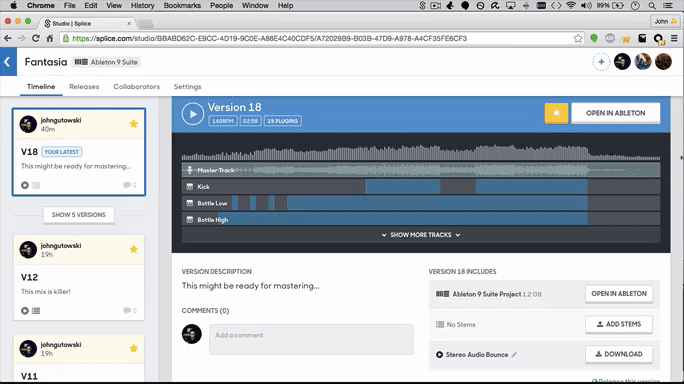 Splice Studio v2 is our response to all of the feedback we've received in our community from users like you that use Studio every day to create amazing music. Welcome to the best version of Splice Studio yet – we can't wait to see what you do with it!
December 3, 2015