Often times, as music creators we get too focused on individual components and lose sight of the bigger picture.
This happens all the time in endeavors like mixing and sound design—how often have you sweated the envelope of a kick or the effects chain on a topline, only to realize it doesn't sound so good in the context of the entire track?
Fixation on individual elements extends past our creative processes, and embeds itself in the way we amass gear as well. Many of us love to buy effects plugins, software synths, or physical instruments to address niche circumstances or spontaneous desires. To be clear, there's absolutely nothing wrong with this; collecting new gear and expanding our toolkits are part of the joy of making music for many of us, as they should be.
That said, we can take our music to new heights once we consider how all of the disjointed pieces in our toolkit work together to serve the bigger picture—this is where the idea of workflow comes in. In this article, let's take a step beyond thinking about what we use, and explore ideas around how we can use both our time and our tools to create our best work.
Time and workflow
One important benefit of intentionally improving your workflow is that it allows you to maximize your time. Regardless of whether you're a hobbyist or a professional, there are only so many hours in a week that you can devote to music—and for that reason, it's important to be mindful about how you're using that time.
When making music, you generally want to be devoting as much time and energy as possible creative decisions, while minimizing the necessary motions in between that are less creative. Templates, presets, and shortcuts are your best friends when it comes to achieving this goal.
Templates
Session templates may be foreign to many, but they can be invaluable depending on the type of music you make. The best process for setting them up might be a little different from DAW to DAW, but the general idea is to have project files that you can use as starting points that are preloaded with instrument tracks, audio tracks, effects chains, etc.
If you're a composer who often uses similar orchestral arrangements, having all of the instrument tracks ready-to-go and neatly grouped by section (strings, winds, percussion, etc.) can be a huge timesaver and help with overall session organization as well. Meanwhile, if you're in a studio doing tracking sessions for several tracks, not having to configure the routing of microphone inputs with every new session is also a huge win.
Presets
Getting into the habit of making your own presets is another way you can save time. Instead of dialing in the same settings on a plugin over and over again, establish some presets for your go-to sounds, and tweak from there as needed to tailor to your specific track.
If you're already comfortable with this idea, the next step is being more strategic about naming conventions and file destinations. For example, if making presets for guitar tones in an amp simulator, consider using a streamlined naming convention like MyInitials-Instrument-Tone-OtherDescriptor (ex. HS-Guitar-Crunch-Bright) and keep them in a single folder so that you can navigate them easily.
Shortcuts
Thirdly, consider taking a moment to really get comfortable with the full spectrum of your DAW's shortcuts. We often know the basics—copy, paste, cut, etc.—but may not know how to do things like toggle between tools or different views without clicking through menus. For any action that you're doing frequently, knowing the shortcut and constantly saving 0.5 seconds can add up to hours or even days saved in the long run. If you get really into it, most DAWs let you customize your hotkeys, which can be particularly useful if you're transitioning to a different workstation.
Mindset
Last but not least, while it's a little more abstract, it's also worth considering how you generally approach managing your creative time and space. How are you setting aside time, removing distractions, and navigating creative roadblocks when they emerge? While we won't go into a ton of depth here, for tips and insights around these ideas and more, check out our article on time management strategies for staying creative and productive.
Tools and workflow
Earlier in this article, we mentioned the widely-shared experience of having a toolkit full of disjointed pieces of gear. While "disjointed" might feel like a strong word, this is the default for most of our setups today, and we serve as the glue that ties all of it together. But what if there were tools and resources that were inherently interconnected, designed to work together across different aspects of making music? What might we be able to create?
At Splice, we're introducing Beatmaker, Astra, and Bridge as new steps towards facilitating the larger workflow in music creation—three plugins that engage with various aspects of the process spanning sequencing, synthesis, and sampling.
Beatmaker allows you to create grooves and define your sound in minutes. You can use an array of preset kits and MIDI patterns as powerful starting points, or drag-and-drop your own one-shots and manipulate them with effects.
Astra is a synthesizer that pairs efficiency with versatility, providing a straightforward interface and a diversity of modes spanning analog, FM, granular, sampler, and wavetable synthesis.
Last but not least, Bridge empowers you to use Splice Sounds in a far more dynamic way than ever before, providing a utility plugin that allows for BPM and key-synced, in-DAW sample audition.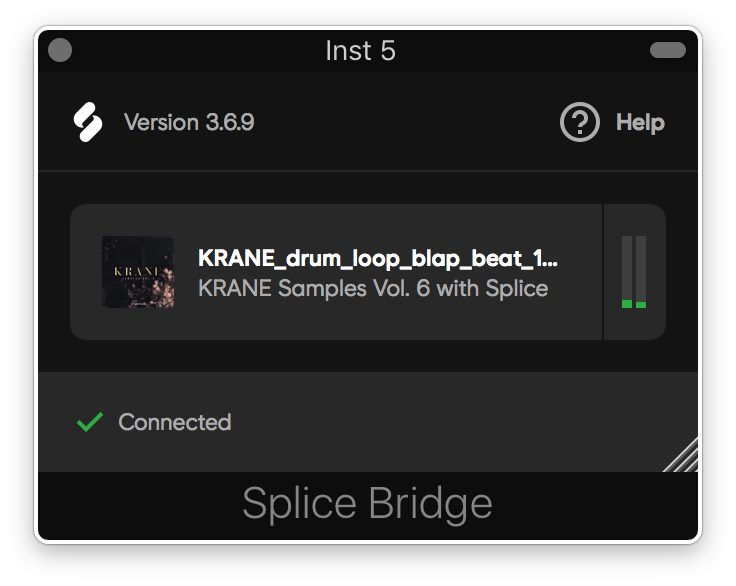 What's more, you can learn how to use all of these plugins to their full potential as well as explore in-depth video lessons on topics spanning synthesis, music theory, mixing, and more via the all-new Splice Skills.
The big picture
As implied earlier, all of these plugins are designed to feel cohesive, united via the Splice Sounds library. There, you can explore and seamlessly import presets crafted by expert sound designers and artists across both Beatmaker and Astra. Looking at the big picture, the creative potential for what you can do with samples to define your sound is also expanded and deepened with all three tools. Lastly, with workflow-first features like Bridge, we hope to allow you to maximize your time and (in doing so) your ability to be creative.
As you continue making more music in the coming months and years, we also aim to continue iterating on these tools alongside you, evolving their individual capabilities as well as how they interact with your workflow. We hope that we were able to provide you some new ideas, tools, and best practices around workflow in this article.
---
Get Astra, Beatmaker, Bridge, and more with the Splice Creator plan:
June 7, 2021