Steinberg
Cubase Pro 13
A powerful DAW for any genre or skill level, packed with intuitive arrangement and recording workflows, a vast collection of VST instruments and effects, and compositional tools for turning that creative spark into reality.
Try free for 14 days
Pause or cancel at any time
No hidden fees or interest
Compatible with macOS and Windows.
Production in any genre
Reach your creative potential whether you're getting started, bringing your tracks to a pro level, or streamlining your workflow for short deadlines. From recording and arranging to sound design and beatmaking to mixing and mastering, Cubase houses a full workflow for modern music makers.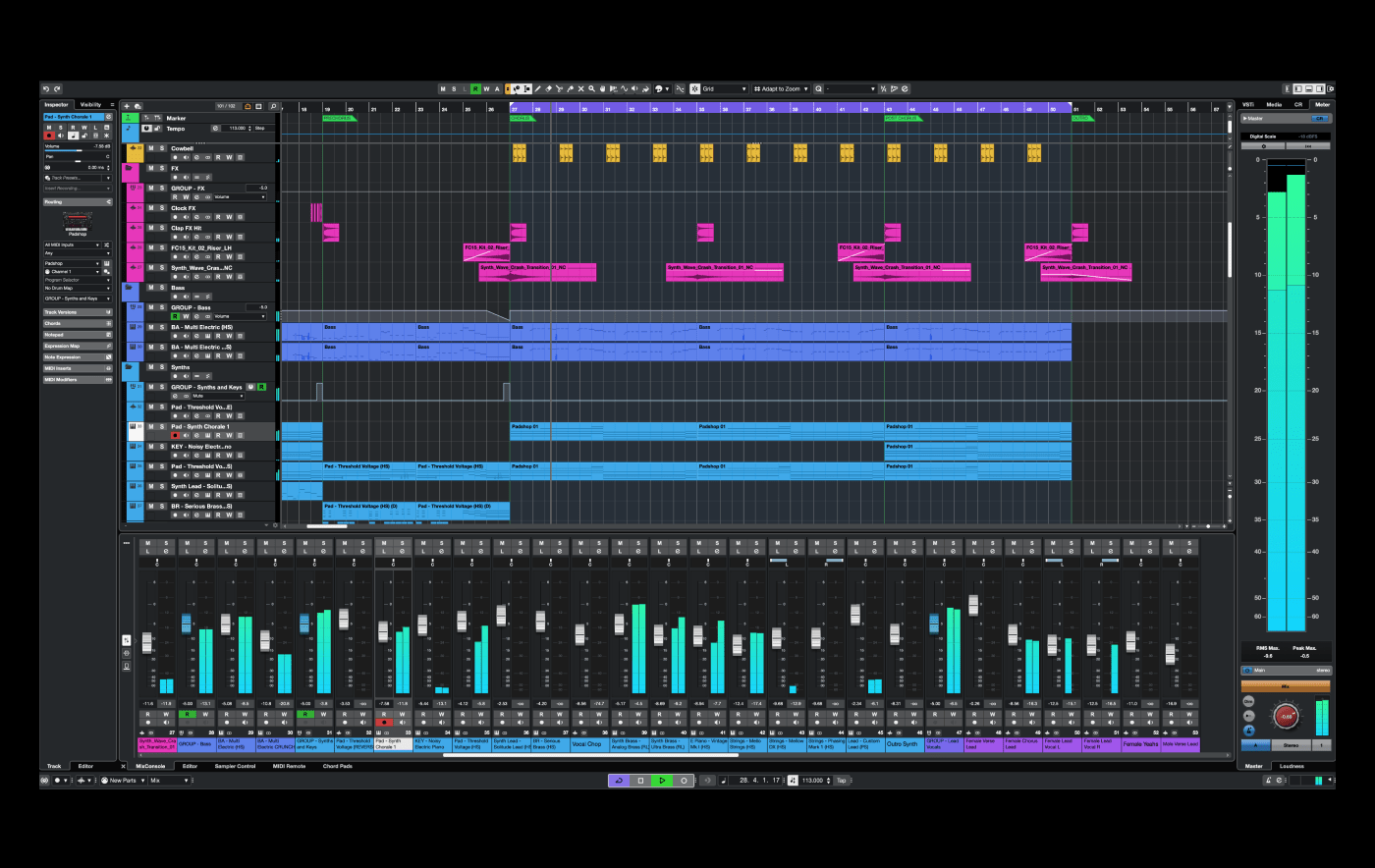 Next-generation audio engine
The award-winning Cubase audio engine features crystal-clear, 64-bit floating-point resolution at a 192 kHz sample rate, delivering pristine sound quality. It also includes true surround capability, with each track and channel offering up to six channels for 5.1 surround mixes.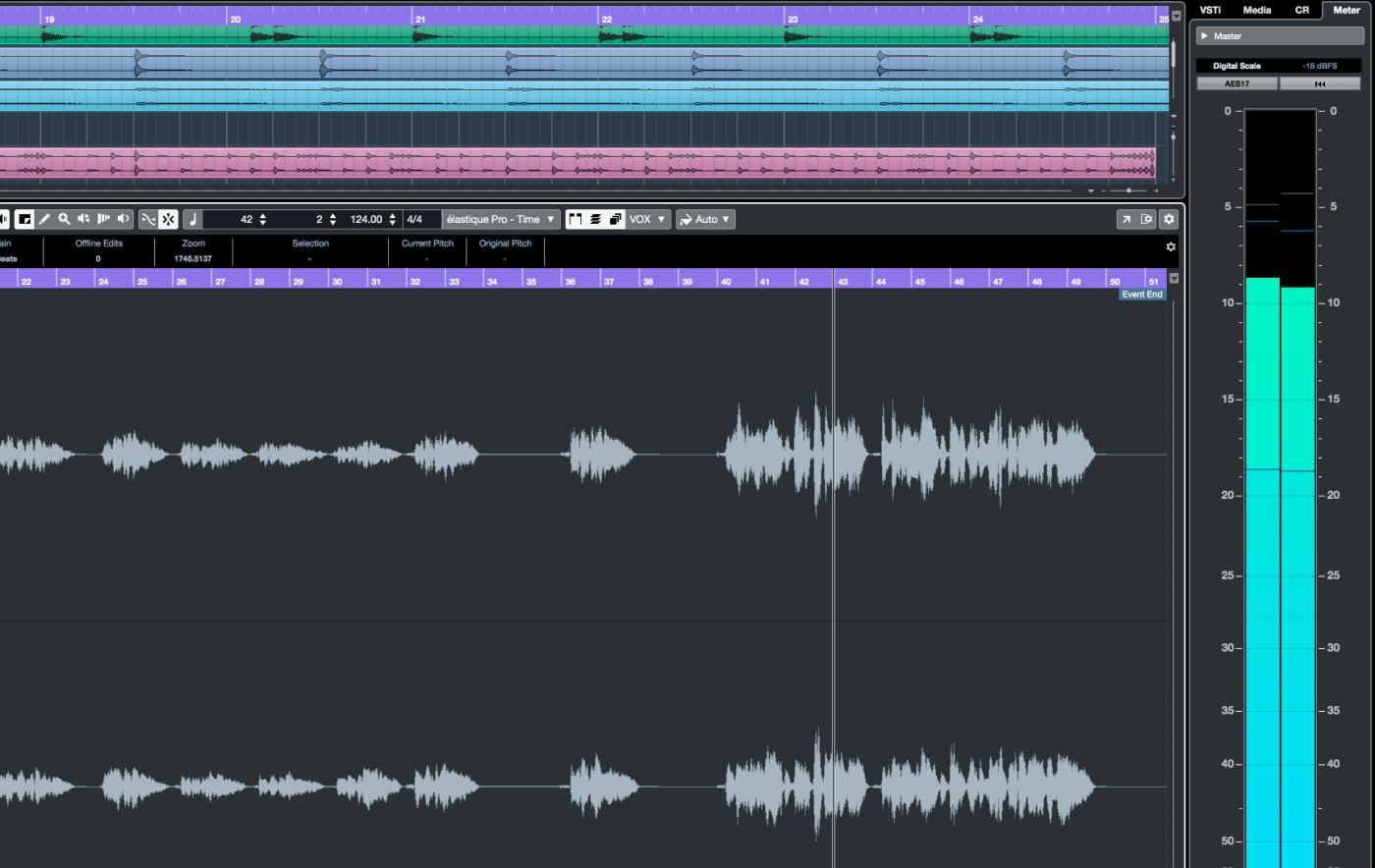 NEW: VocalChain plugin
Vocal processing is an art of its own, taking a lot of expertise and experience to master. The VocalChain plugin provides dedicated modules for each step, helping to turn your recordings into professional-sounding vocal tracks.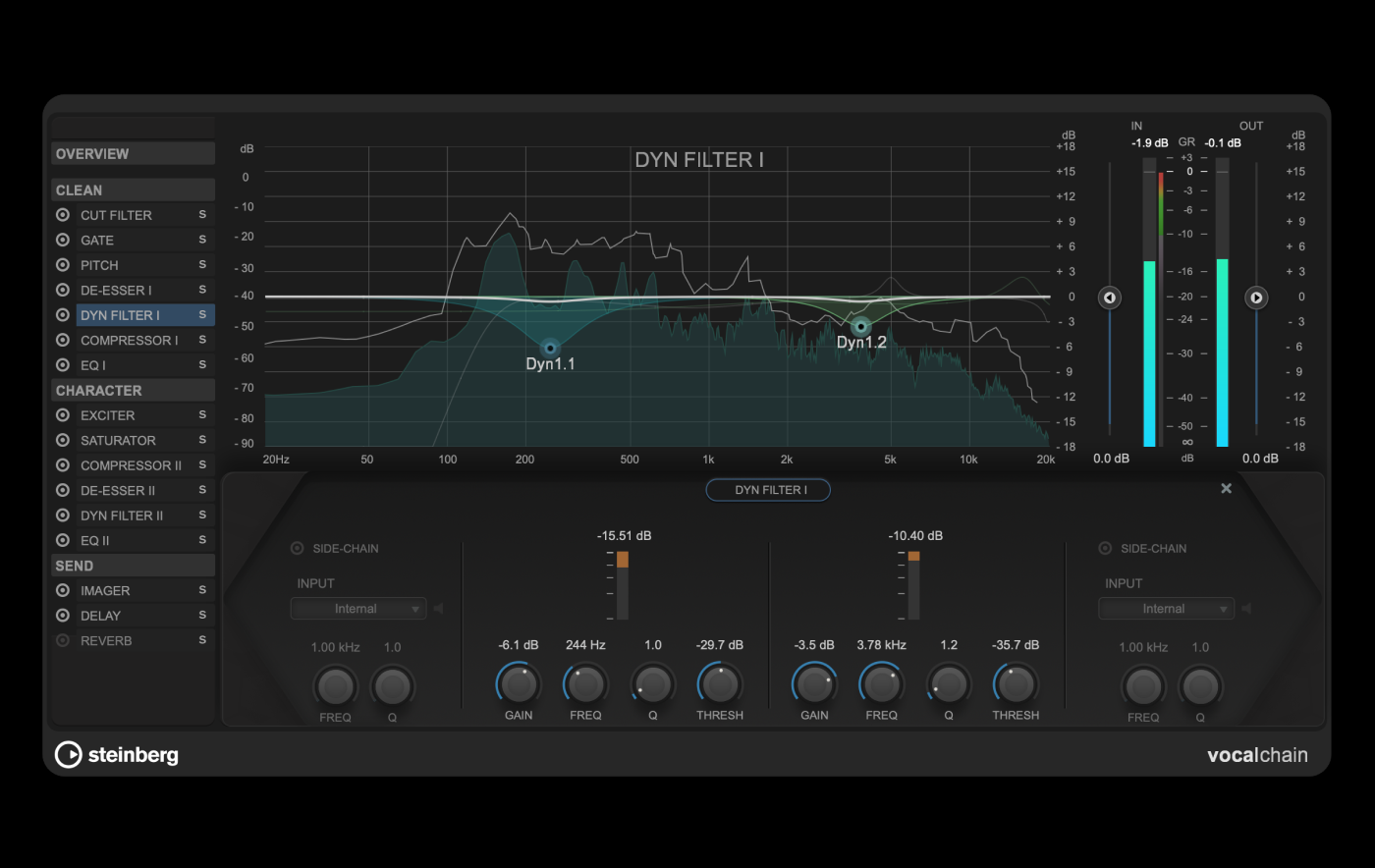 UPDATED: Chord Pads
It's easy to get 'stuck' with chord progressions. Compose quickly and creatively with the easy-to-use Chord Pads, letting you to jam with chords and patterns, controlling voicings, tensions, and more in real time. This update gives you excellent starting points and enhanced functions to make it even simpler to create unique music.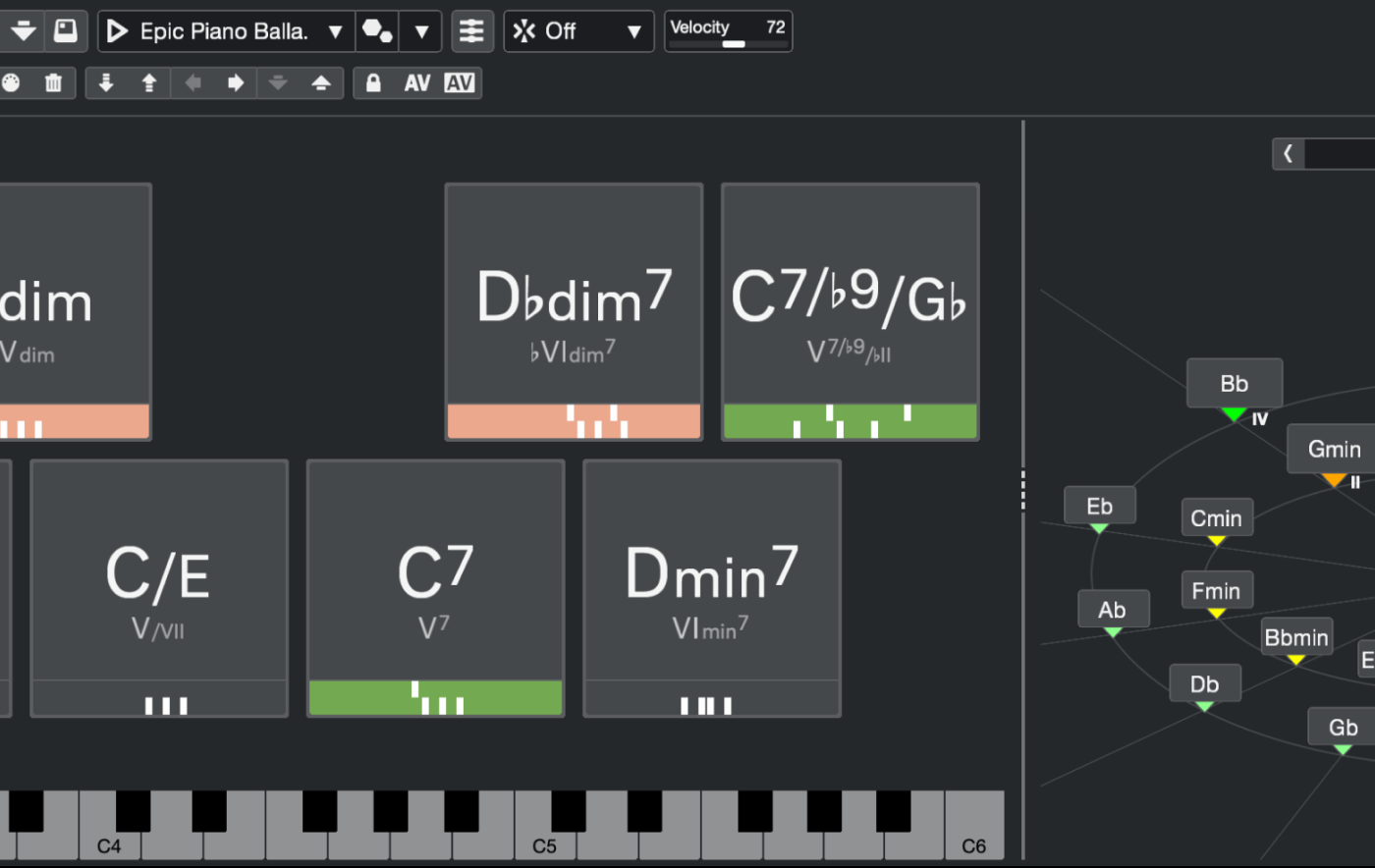 UPDATED: MixConsole
Cubase's MixConsole is not only easy to use, but it also sounds like a high-end analog mixing console. Overhauled with a slick new design to keep you focused on your mix, MixConsole features View Sets and Channel Zones for maximum flexibility, 'one click' direct routing, customizable track icons, track notepads, drag-and-drop support, and plugin / channel search functions.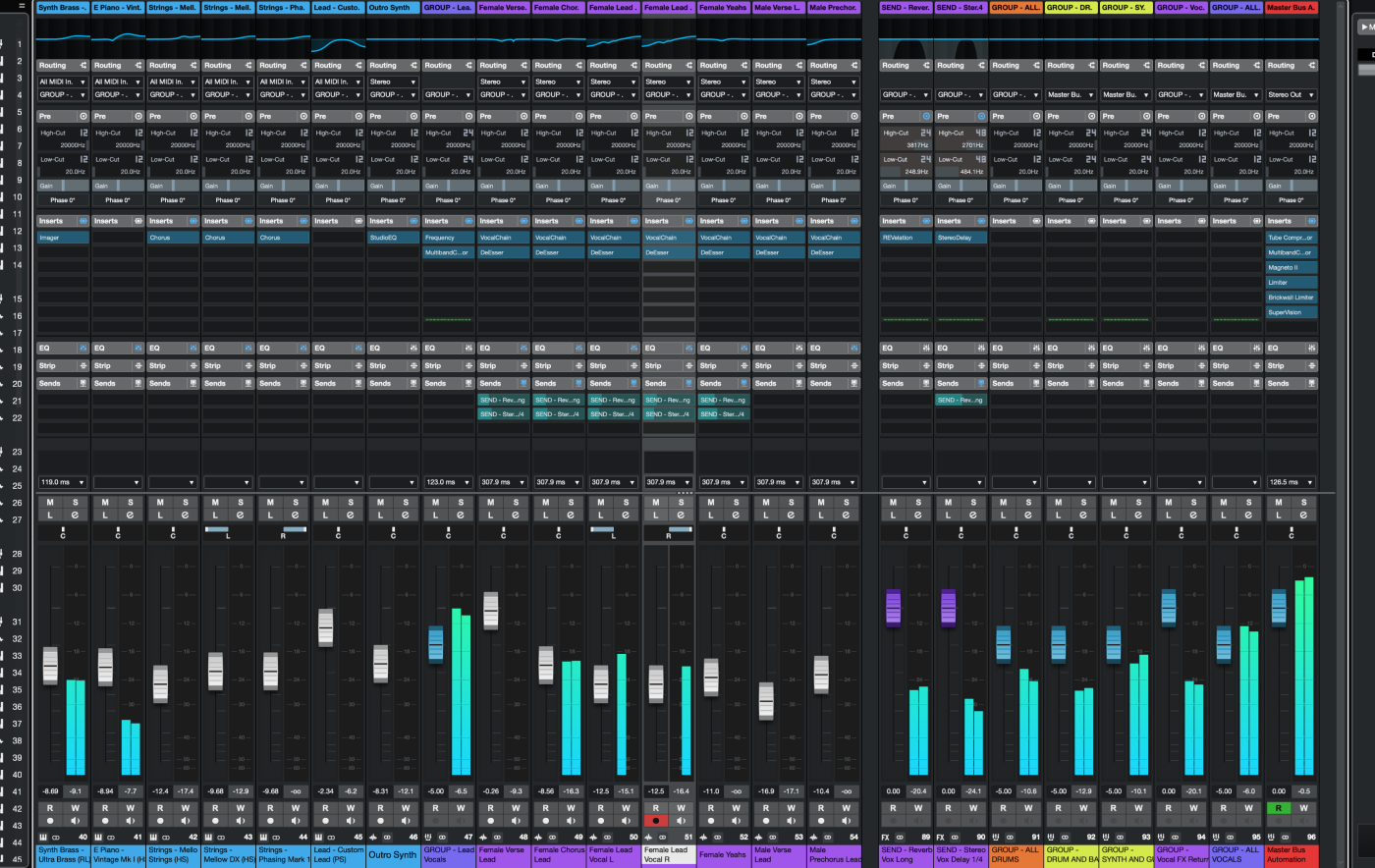 UPDATED: Sampler Track
Turn any audio into a Sampler Track to play the sample chromatically and manipulate it with filters, controls, and two LFOs. Use 'Slicing mode' to chop loops for easy use and the mono legato glide for bending leads and 808s. The new Spectral Warp modes offer even more extreme manipulation and powerful envelope creation.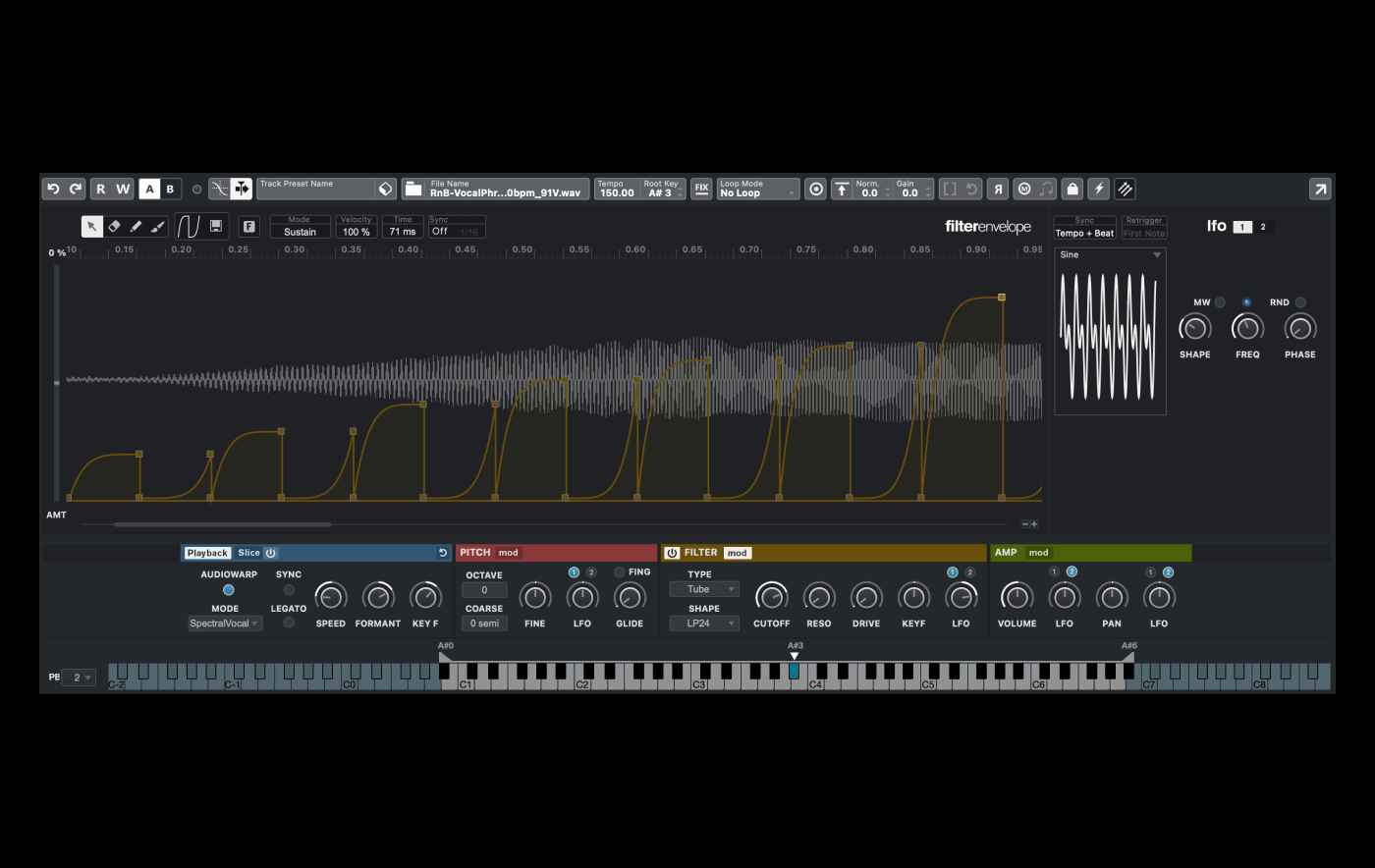 Easy Comping
Create the perfect take with streamlined comping workflows. When recording several takes, Lanes are created instantly for each track being recorded. Simply swipe across the best parts to automatically create a master take, and use the Comp tool's useful click-and-drag features for instant results.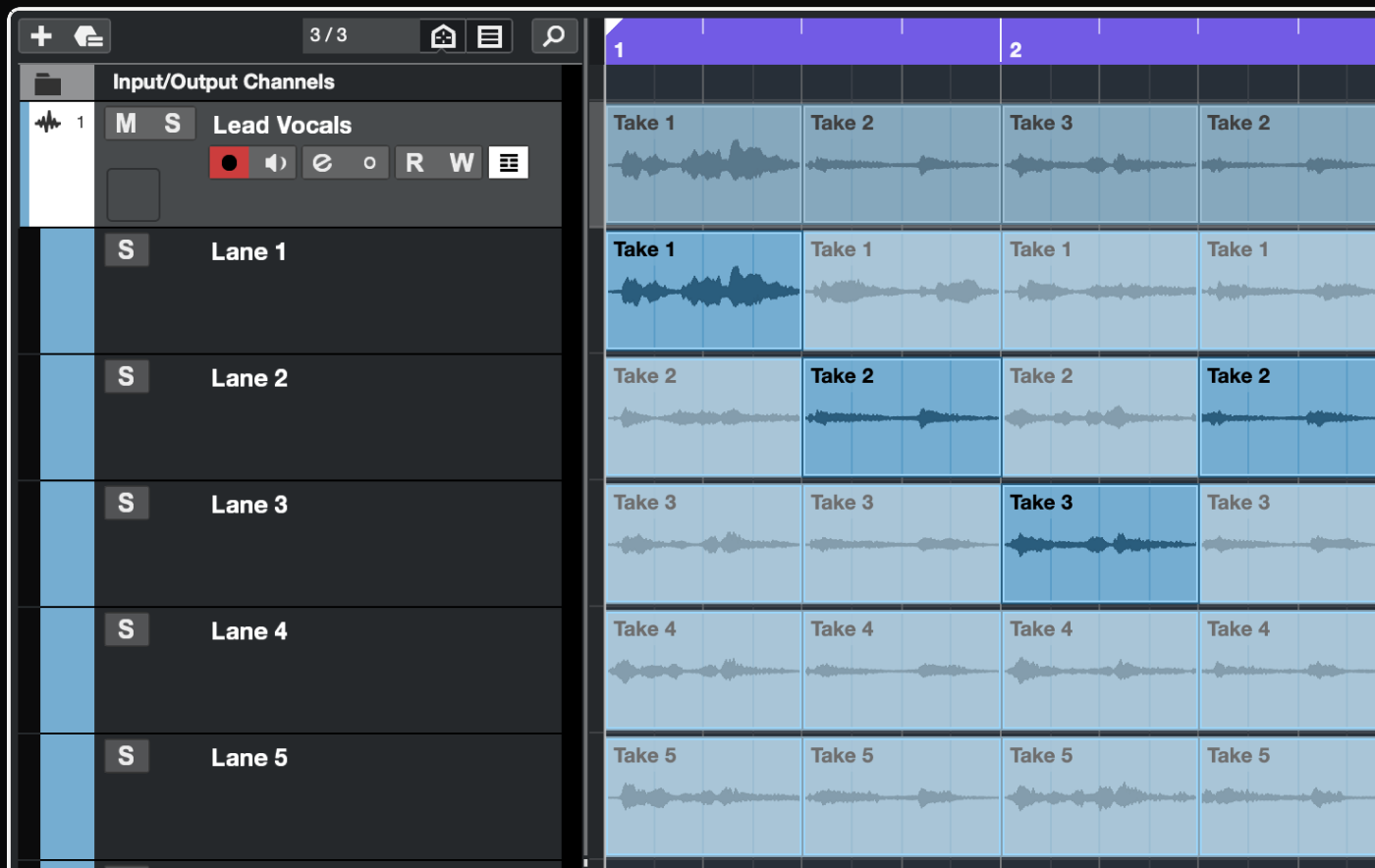 NEW: Visibility in Key/Drum Editor
Edit multiple parts at the same time from within the Key Editor and Drum Editor, allowing you to switch between tracks with the Visibility tab and maintain an overview with the new Track display. Stop scrolling around to find the right part and stay in your creative flow.
Built-in Channel Strip
Carefully crafted in close collaboration with seasoned audio engineers, the channel strip modules are integrated into every channel and deliver the stunning, professional mixer quality essential for turning your music into fantastic productions.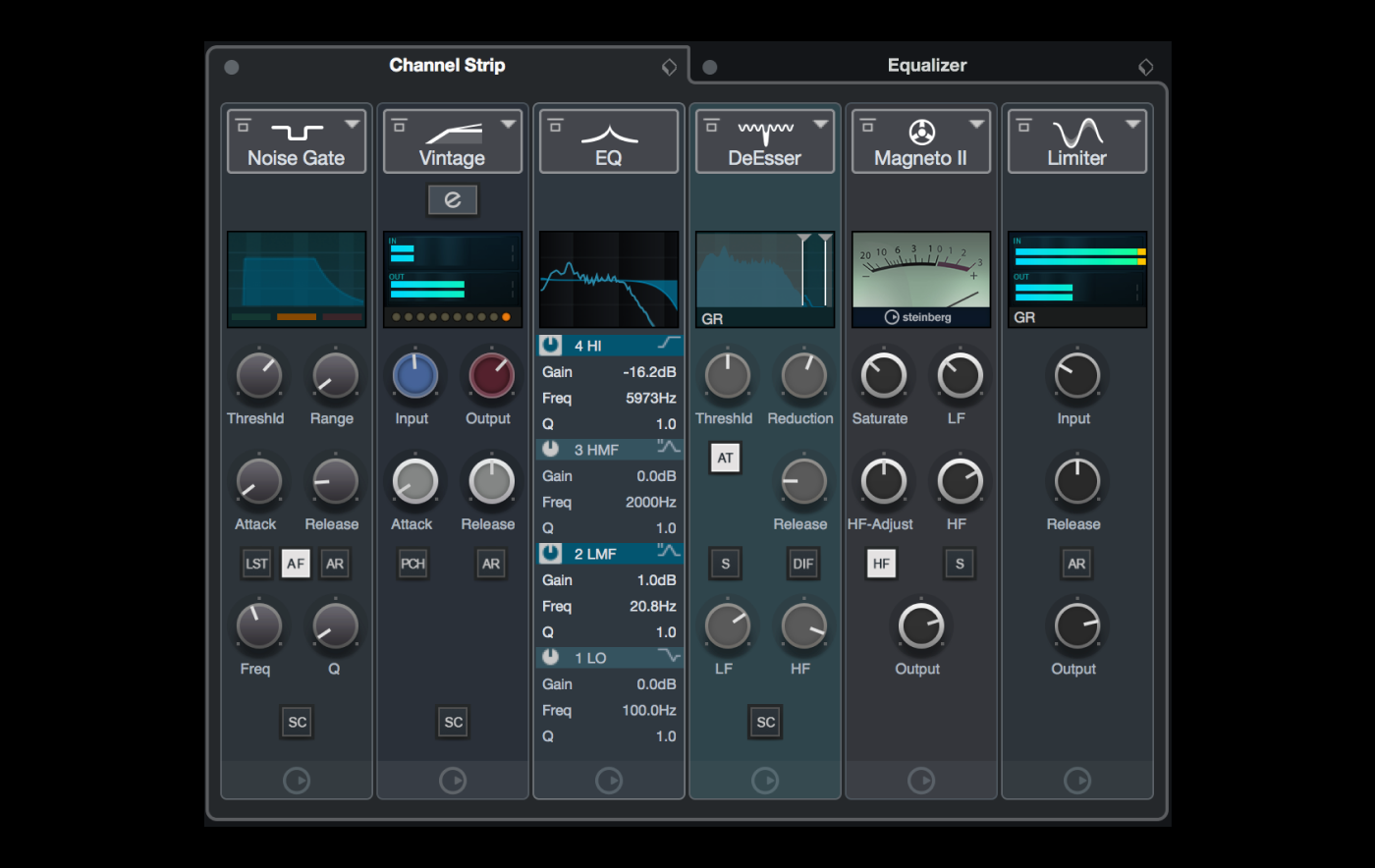 VariAudio 3 and Scale Assistant
VariAudio offers pitch-correction for individual notes in vocal recordings, solving intonation and timing problems in just a few clicks. Full integration with the Chord Track ensures correct pitch for harmonies, even letting you harmonize lead vocals. Edit micro pitch level for smooth drifts and transitions, adjust formants for natural tones, and use the Scale Assistant to make sure your vocals and other instruments stay in-key (you can even let Scale Assistant analyze MIDI recordings to suggest the right scale).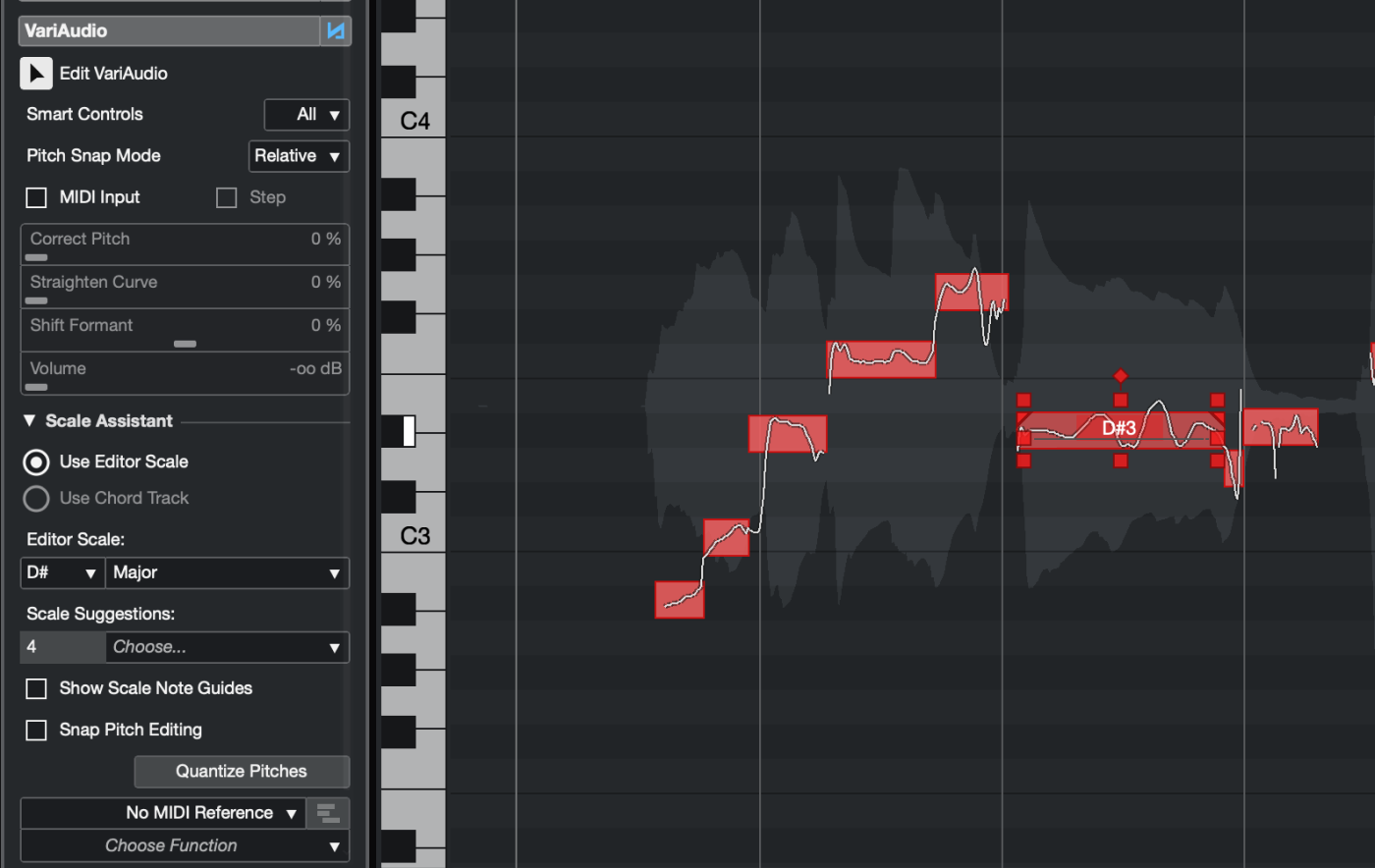 Powerful Plugins Included
Cubase Pro 13 comes stocked with powerful plugins to help maximize your creativity. From Groove Agent's huge library of stunning samples, grooves, and patterns, to Iconica Sketch's easy-to-use tools for orchestral composition, to built-in compressors, equalizers, and vocoders, Cubase Pro 13 comes with a full toolkit for any kind of creator.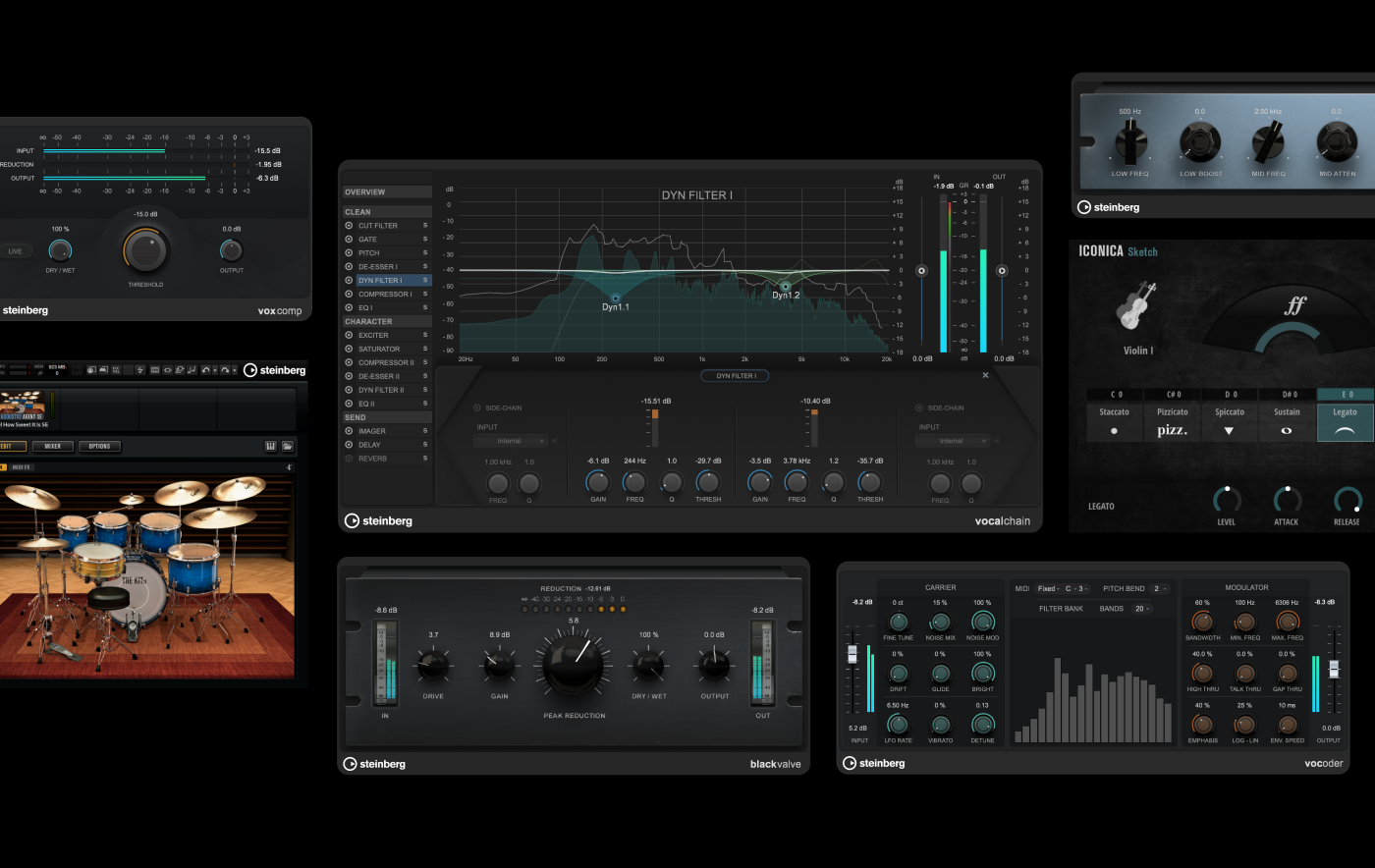 Workspaces
Organize and save the size, position, layout, and settings of frequently-used windows and dialogs, letting you switch between different working modes quickly.
MediaBay
Find and organize your files quickly and easily. Search to display all files of supported formats, listed in the Results section.
MIDI Remote Integration
MIDI Remote Scripts help to automatically detect your controller and map controls. Create your own script if one doesn't exist and map controls to parameters with the Mapping Assistant.
So much more...
Cubase is as deep as it is fun and easy to use. Check the Product Information section below for links to learn about the full Cubase feature set.
Testimonials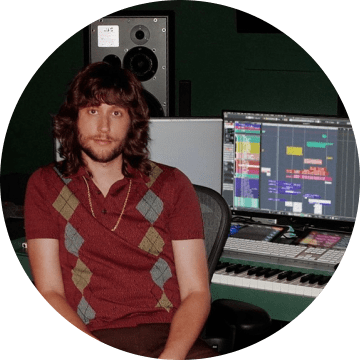 As a composer, my most challenging task is translating the ideas from my head into a DAW. Cubase feels like an extension of my brain and allows me to easily create the music of my imagination.
Ludwig Göransson (Composer, Producer - Black Panther, the Creed films, The Mandalorian, and more)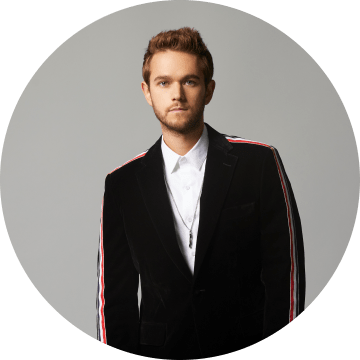 Cubase Pro is the center of my production world. It has an intuitive workflow and layout that allows me to create music quickly and efficiently.
Zedd (GRAMMY-Award Winning Producer)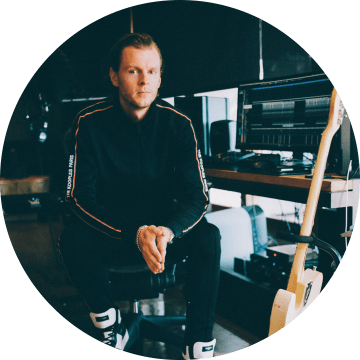 There's a reason I've used Cubase for 15+ years. No other DAW compares when it comes to workflow, reliability and unique features.
Cirkut (GRAMMY-Award Winning Producer / Songwriter - The Weeknd, Rihanna, Maroon 5, Miley Cyrus, and more)
From Hollywood blockbuster composers and Billboard Hot 100 producers right through to keen beginners, the world of music production trusts the comprehensive feature set, straightforward tools, and pristine sound of Cubase.
Cubase 13 features significant new features and workflow enhancements which make composing, recording, and mixing music even more creatively rewarding. From the all-new VocalChain plugin and Visibility panel to the updated MixConsole and Chord Pads, Cubase 13 will bring your creative ideas to life better—and faster—than ever.
Learn about the full Cubase feature set here.
For the most up-to-date system requirements, please visit the manufacturer's website
macOS Ventura and macOS Monterey, Intel® Core™ i5 or Apple silicon CPU
Windows 10 Version 22H2 (64-bit) or higher, Windows 11 Version 22H2 (64-bit) or higher, Intel® Core™ i5 or AMD Ryzen™ CPU
Minimum 8GB RAM, 1GB free disk space (75GB for full content installation)