KORG
wavestate native
The legendary wave sequencing tech of KORG's wavestate hardware synth, radically re-imagined for the modern workflow. Organic, inspirational, mind-blowingly powerful, and now available as a native software plugin.
Try free for 3 days
Pause or cancel at any time
No hidden fees or interest
Compatible with macOS and Windows. All plug-in formats are 64-bit only.
Available as Standalone, AU, VST3, and AAX.
The apex of synth power
Taking cues from sources like modular synths, groove boxes, and algorithmic composition, wavestate native sounds lush and large. Expressive and deep, wavestate has thousands of modulation options and no fixed limit on the total number of modulation routings. Use drag and drop to easily modulate almost anything and keep a birds eye view of all routings via the Mod List.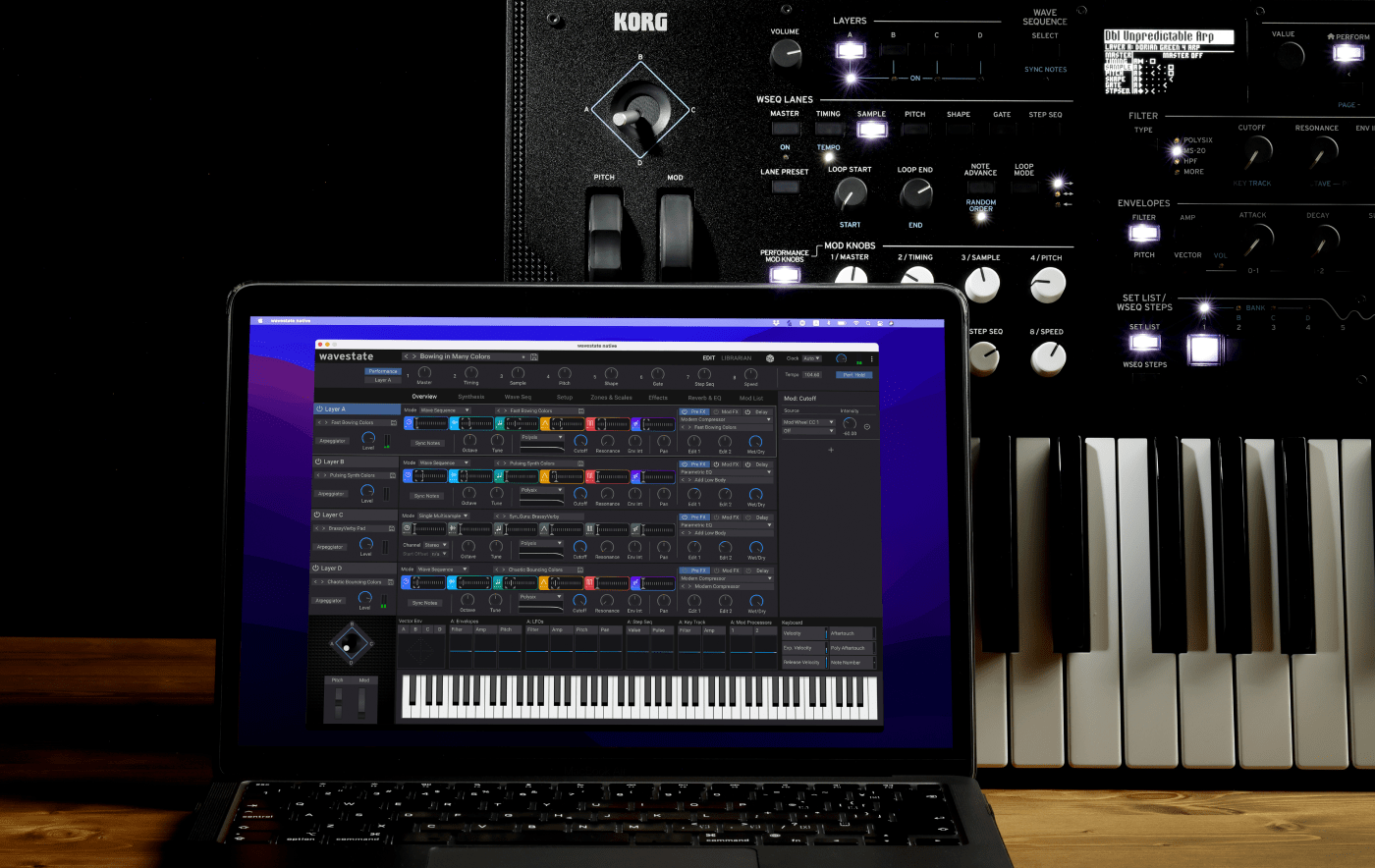 Wave Sequencing 2.0
Wave Sequencing 2.0 splits apart the timing, sequence, and the melody of samples so that each can be manipulated independently. The result? More dynamic, unexpected sounds. Wave Sequencing 2.0 allows for "lanes" that can have a different number of steps with their own start, end, and loop points and effects. Modulate each Lane's start, end, and loop points separately for every note, using velocity, LFOs, envelopes, Mod Knobs, or other controllers. Randomize step order or randomly skip steps for something ever-changing that feels like an extension of your creative curiosity.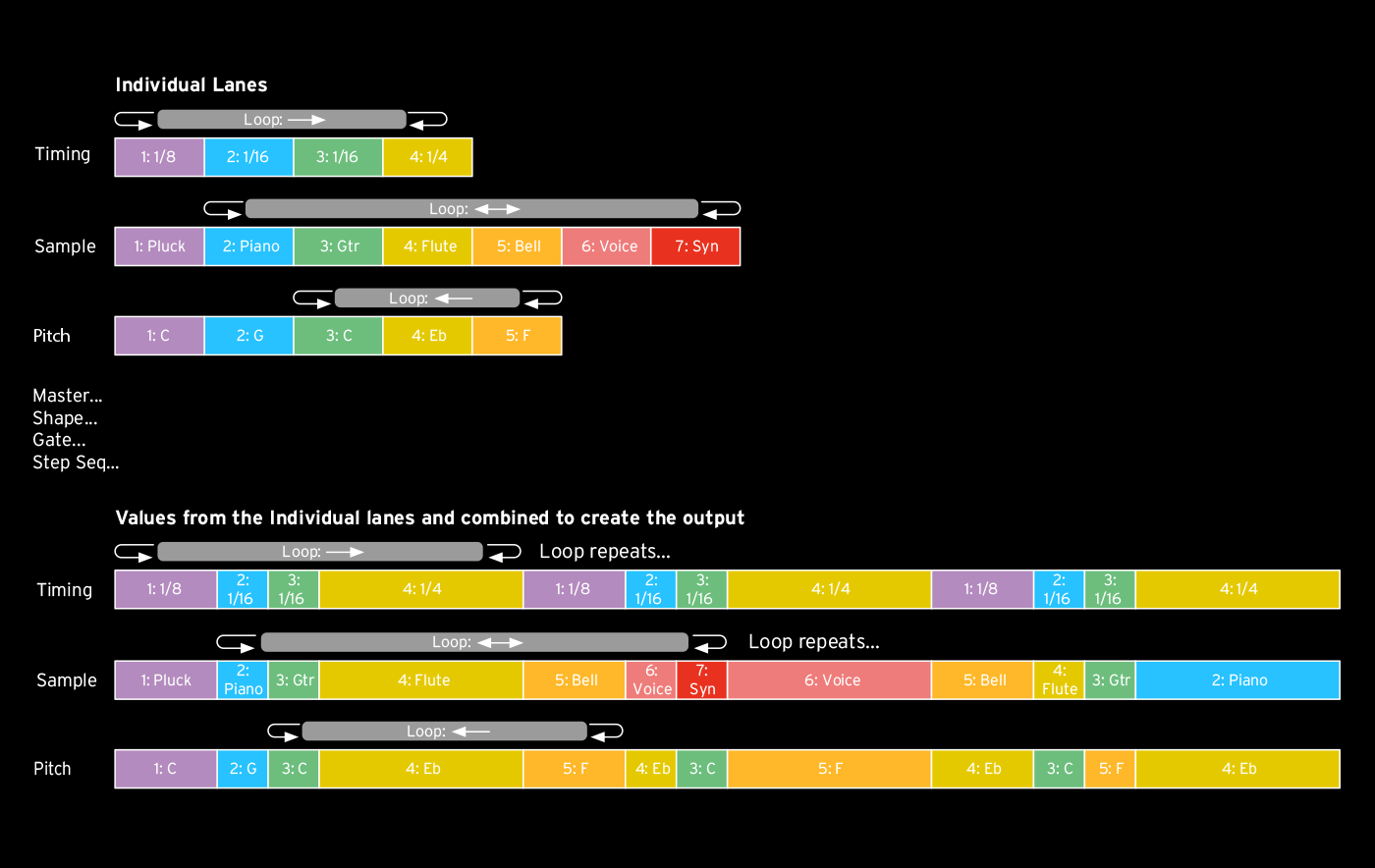 An arsenal of effects
The wavestate's effects deliver even more depth to your sound. Along with standards such as compressors, EQs, choruses, flangers, phasers, and stereo delays, you'll find distinctive processors such as the Wave Shaper, Talking Modulator, Reverse Delay, Multiband Mod Delay, and Overb (from the OASYS), plus modeled effects including VOX guitar amps, VOX wah, multi-head tape echo, and a collection of classic guitar pedals. With three dedicated effects per layer and a master reverb and parametric EQ, you're guaranteed to get lost in a new favorite patch.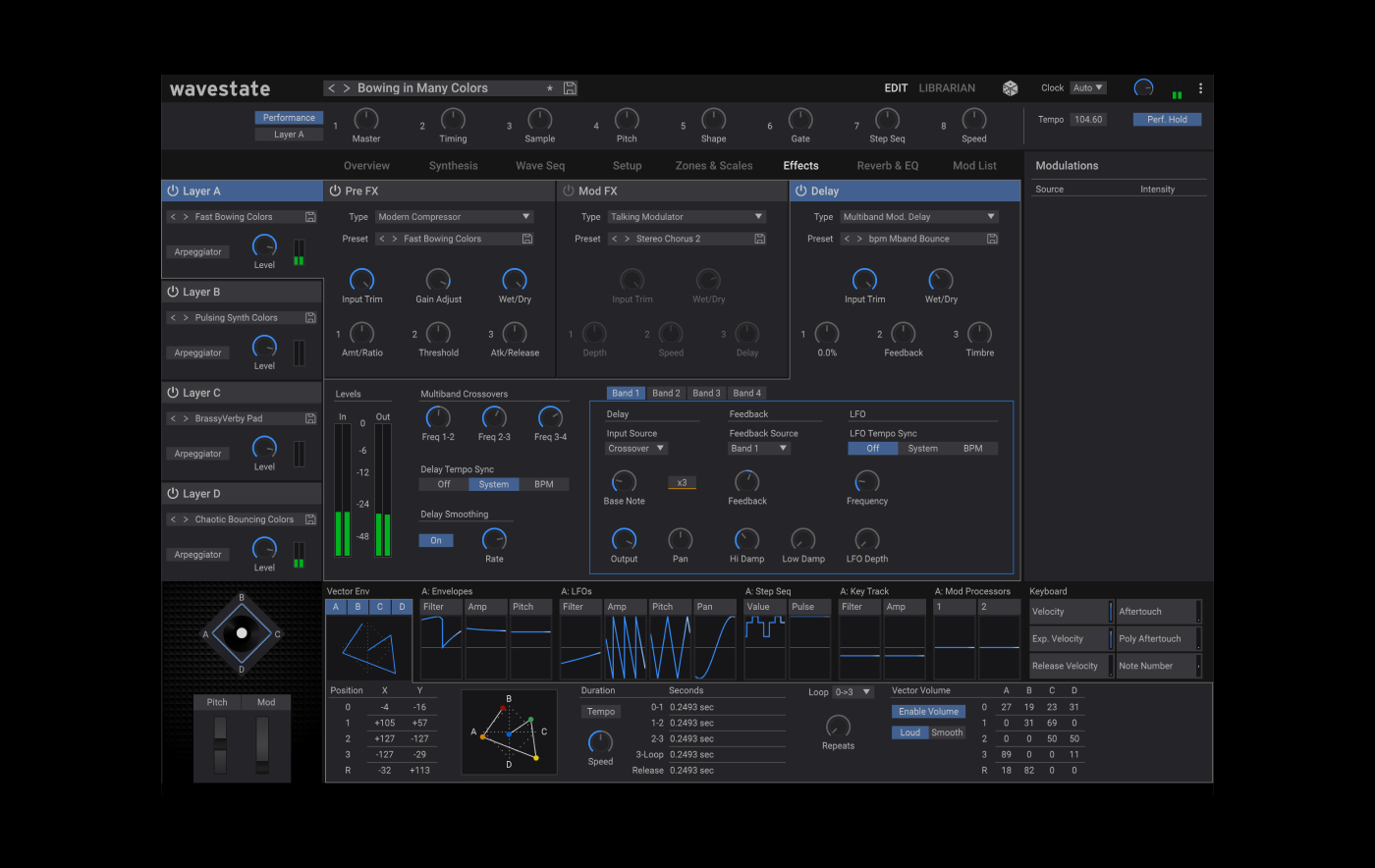 In perfect harmony
Wavestate native is the software counterpart to KORG's wavestate synthesizer. Produce in your DAW with wavestate native, and then play the same sounds on your wavestate in the studio or on stage. Load third-party sound and sample libraries compatible with Wavestate hardware.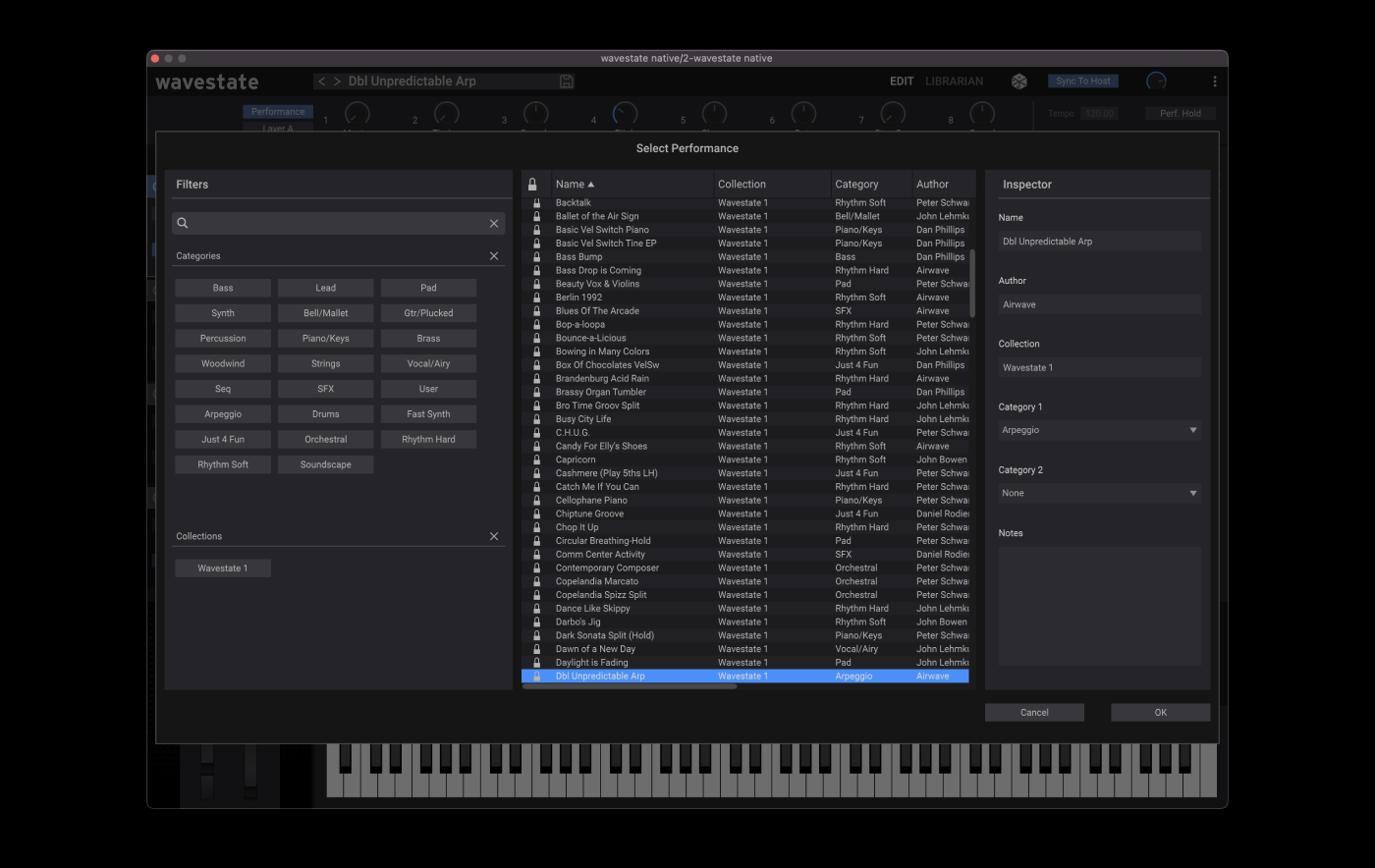 Timeless tech
Designed by the same team that brought you the Wavestation and other historic synth sounds, the wavestate packs decades of innovative synth technology into one plugin. Three of the key sound designers from the original Wavestation, John Bowen, John "Skippy" Lehmkuhl (Plugin Guru), and Peter "Ski" Schwartz, joined Belgian artist Airwave and the renowned KORG voicing team to create the incredible wavestate sound library.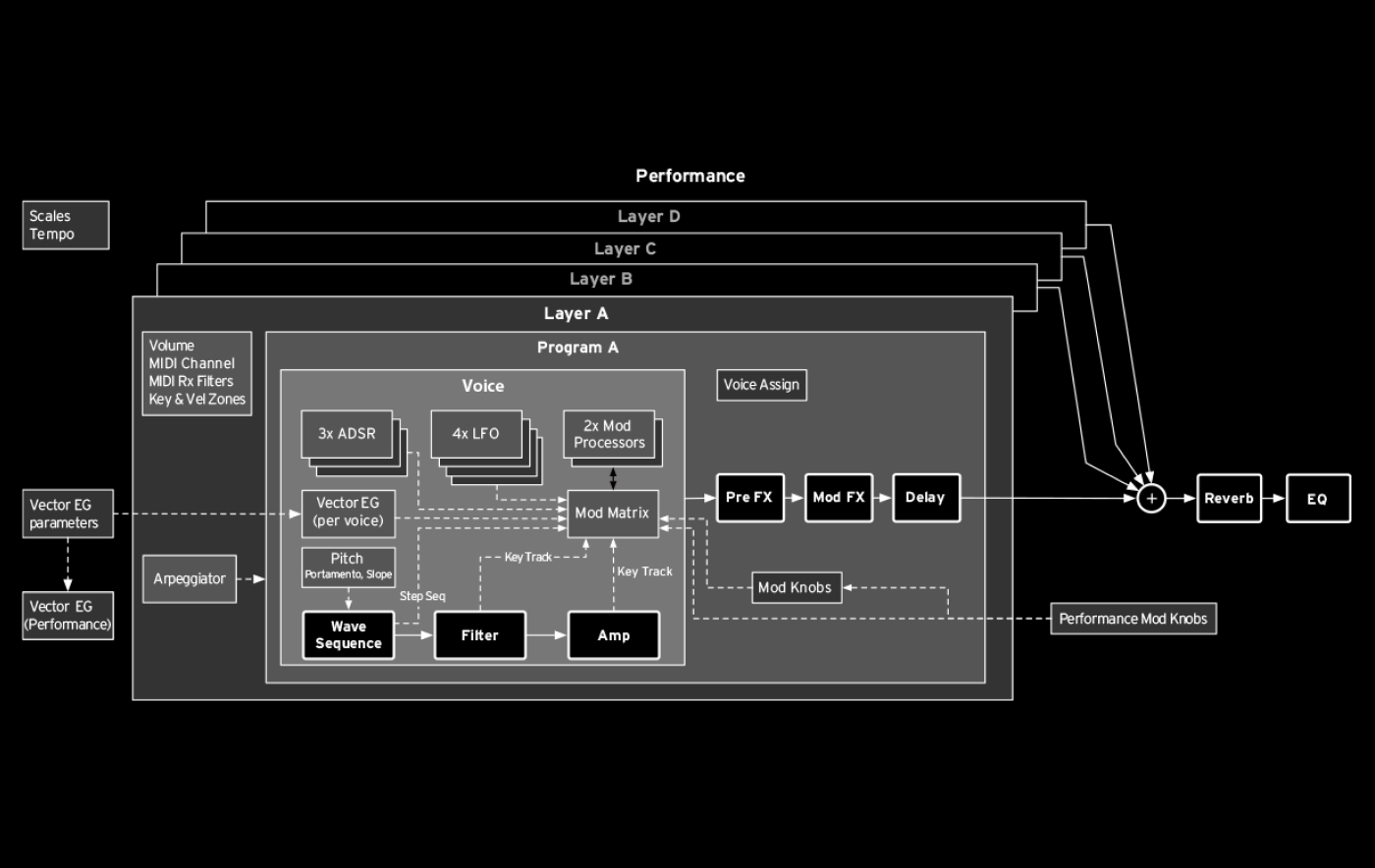 From the manufacturer:
Organic, inspirational, and mind-blowingly powerful.
KORG's legendary Wavestation introduced the world to Wave Sequencing, transforming raw samples into sounds that no-one had ever heard before. The flagship OASYS and KRONOS keyboards developed Wave Sequencing even further, expanding on its unique palette of lush, evolving pads and driving rhythms.
Now, KORG is proud to announce the next step in digital synthesis: the wavestate. Featuring the radically re-imagined Wave Sequencing 2.0, the wavestate delivers astonishing, ever-changing sounds with extensive hands-on control.
Far from a nostalgic reissue, the wavestate is designed from the ground up for a new generation of musicians, producers, and composers, taking cues from sources as diverse as modular synths, groove boxes, and algorithmic composition. The compact form-factor, with 37 full-size keys, transports easily and fits neatly into any stage, studio, or desktop setup.
What's included:



- Wave Sequencing 2.0 technology
- Extensive modulation capabilities
- Gigabytes of samples
- Modeled filters, including MS-20 and Polysix
- 64 stereo voices
- 4 Layers with Vector control
- 14 simultaneous effects
- Set Lists and Smooth Sound Transitions
- Randomization
- Designed by Korg R&D in California
- Patch exchange between wavestate and wavestate native
For the most up-to-date system requirements and host compatibility details, please visit the manufacturer's website
macOS 10.13 High Sierra or later
Supported on Apple M1 or better, or Intel Core i5 or better
Windows 10 64bit or later