iZotope
Neutron 4
Take the guesswork out of mixing with the ultimate AI mixing experience, helping you achieve your sound faster than ever. Now with a modernized Mix Assistant, new innovative mixing tools, and improved performance.
Try free for 3 days
Pause or cancel at any time
No hidden fees or interest
Compatible with macOS and Windows. All plug-in formats are 64-bit only.
Available as AU, VST3, and AAX. VST2 is no longer supported for Neutron 4.
Mix in the moment
Neutron's beloved Mix Assistant is now modernized and expanded into the new Assistant View, an intelligent control center that produces fast, personalized results. Use this trusty tool to quickly find a starting point and stay in a creative mindset.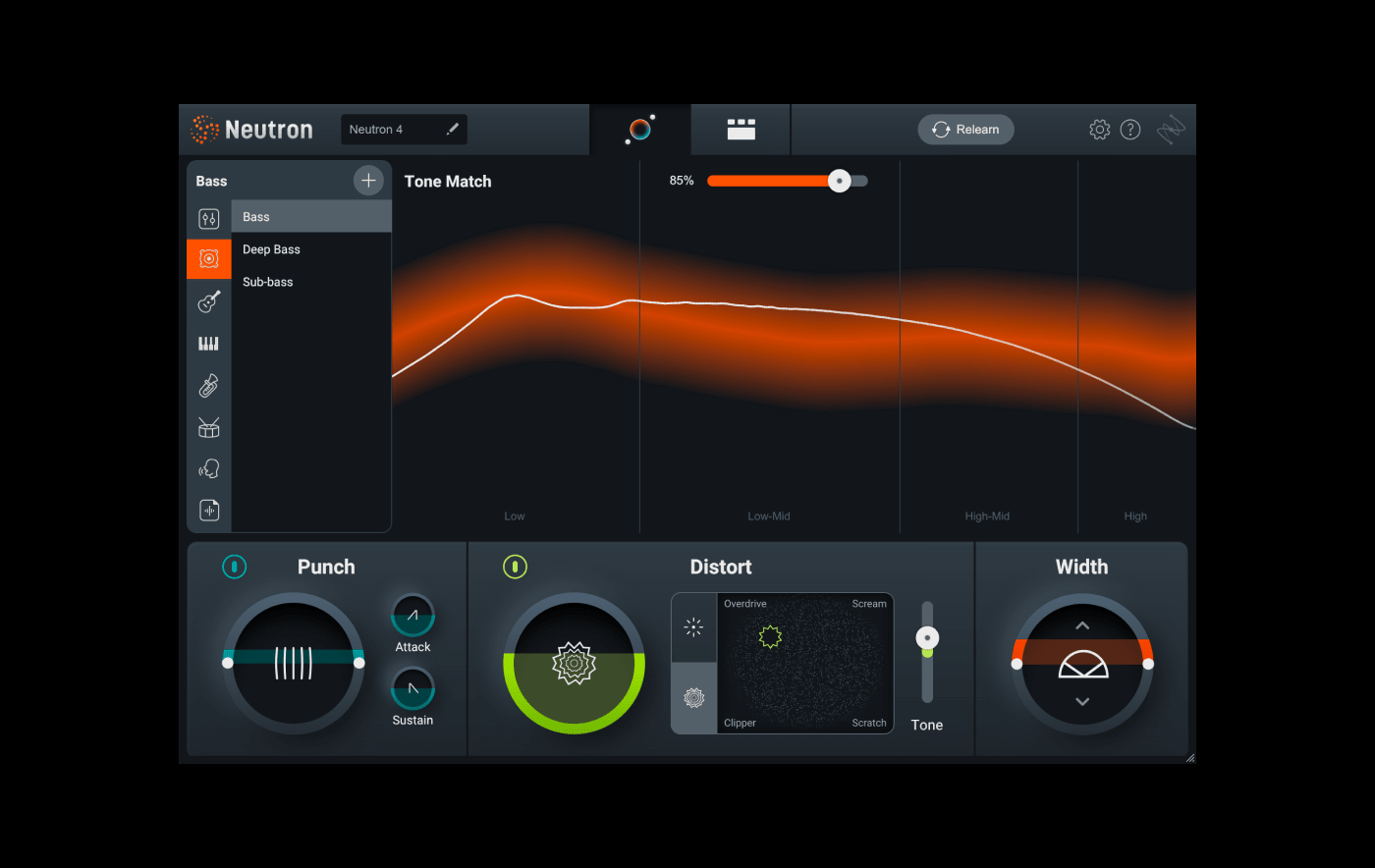 Mixing that fits your workflow
Neutron 4 is stocked with 8 powerful modules, ranging from EQs to compressors to innovative tools like Sculptor. And if you just need one tool for a specific task, Neutron ships with separate component plugins for each module, letting you minimize CPU load without sacrificing audio quality.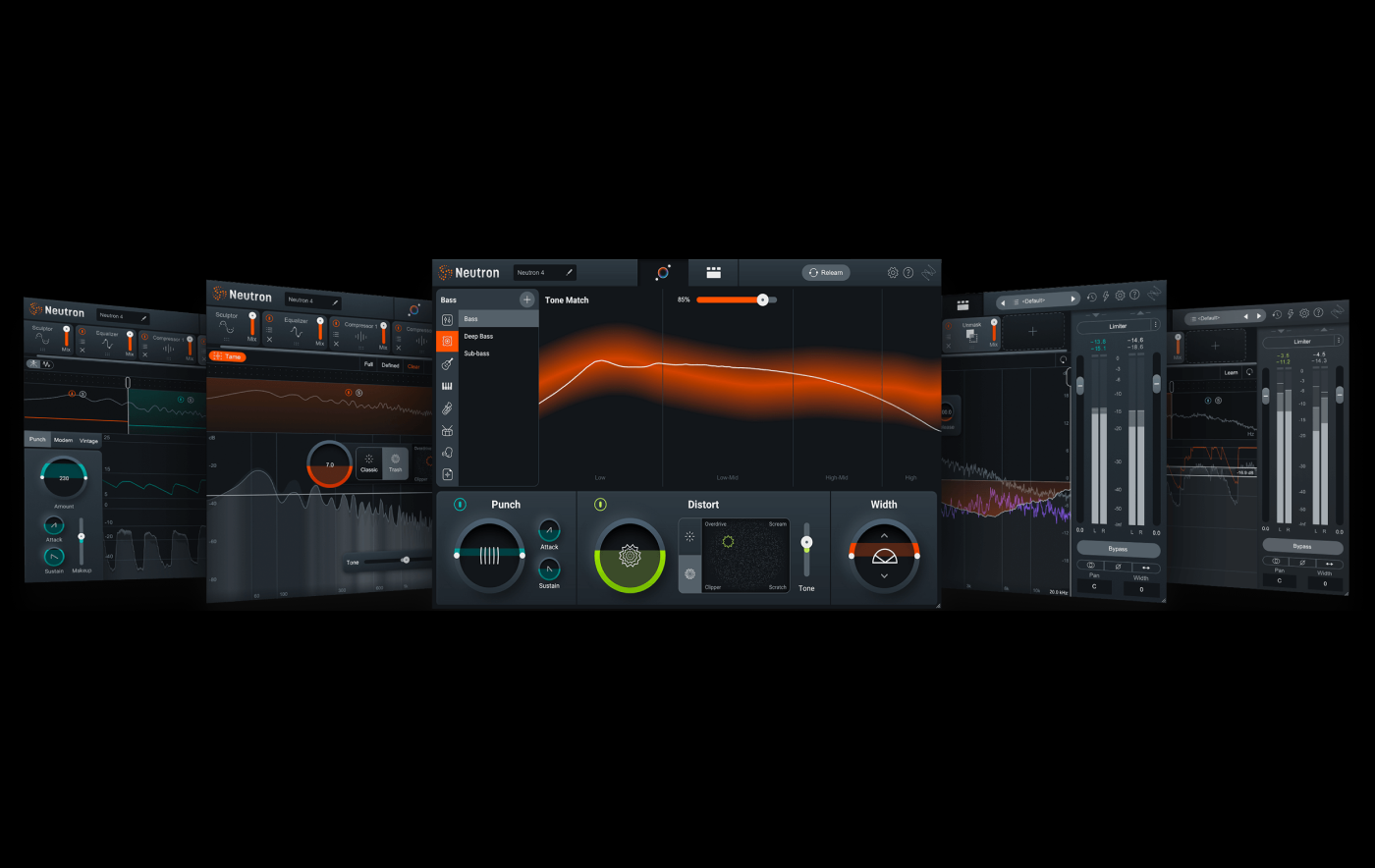 Magically match references
Aiming for a specific sound? Like magic, Neutron can help you get there. Whether you want to start with a preset or load in your own reference samples or stems, Neutron's Target Library helps Mix Assistant match your sounds to any reference.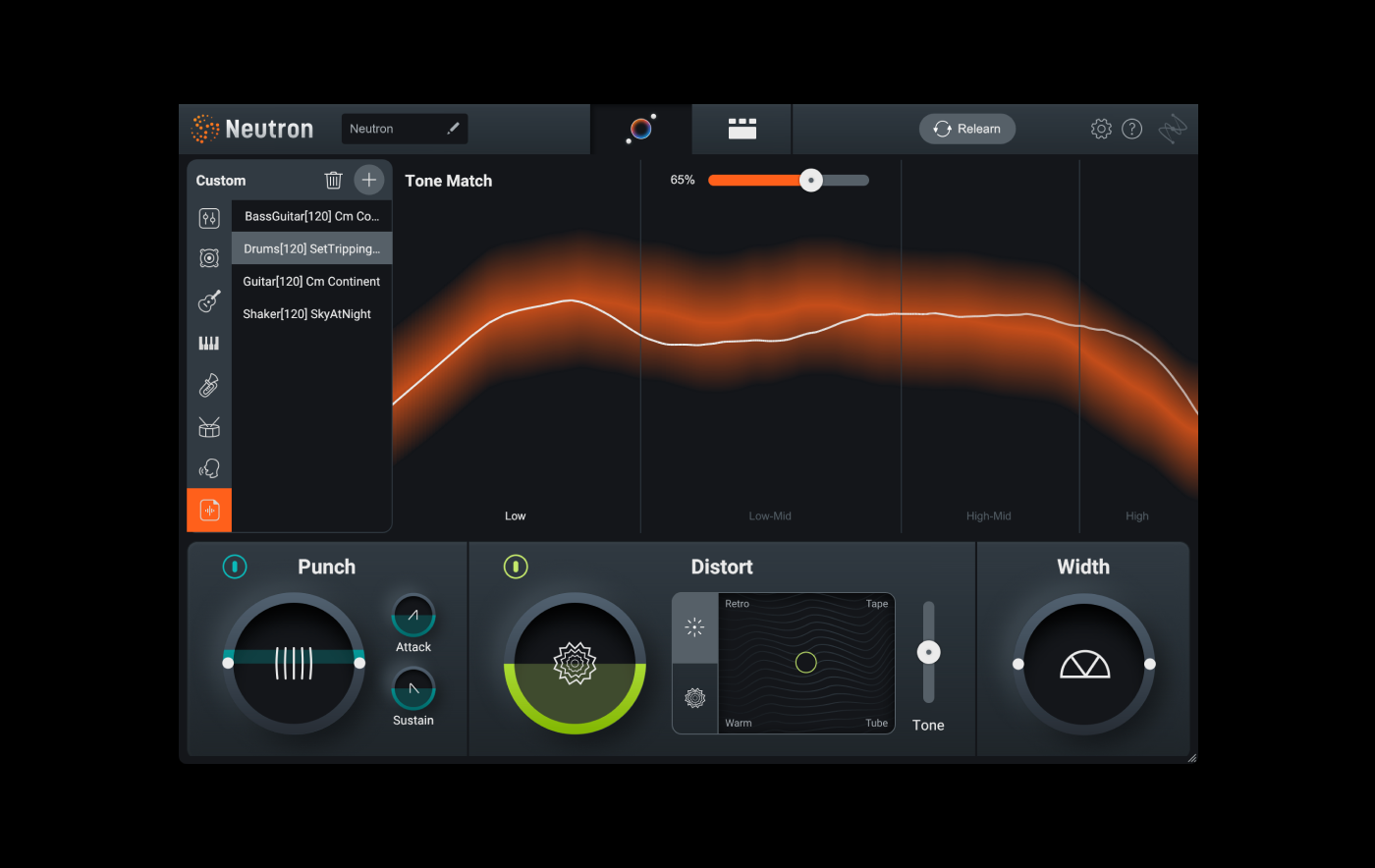 Real-time feedback
Sculptor is like an army of compressors and EQs tirelessly balancing your track in real-time. It talks with Mix Assistant to understand the instrument you're working with, making dozens of tiny (or extreme) tweaks to make your sounds the best they can be.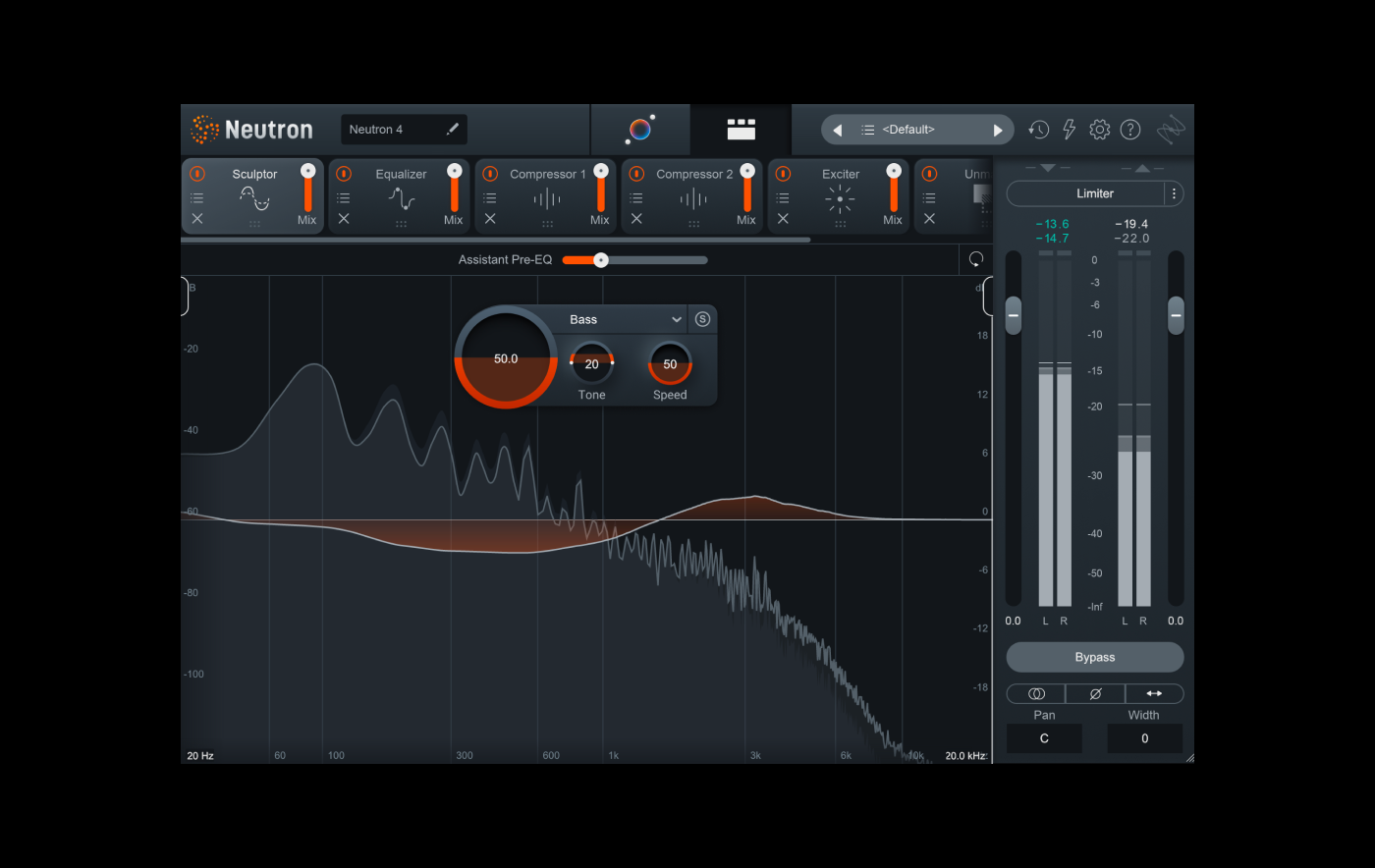 Make space
Fix muddy mixes in seconds. Neutron 4 discovers and fixes masking issues with the new Unmask Module, enabling you to reach new levels of clarity. Makes space between two competing tracks, like balancing your bass and kick or allowing vocals to shine in the mix.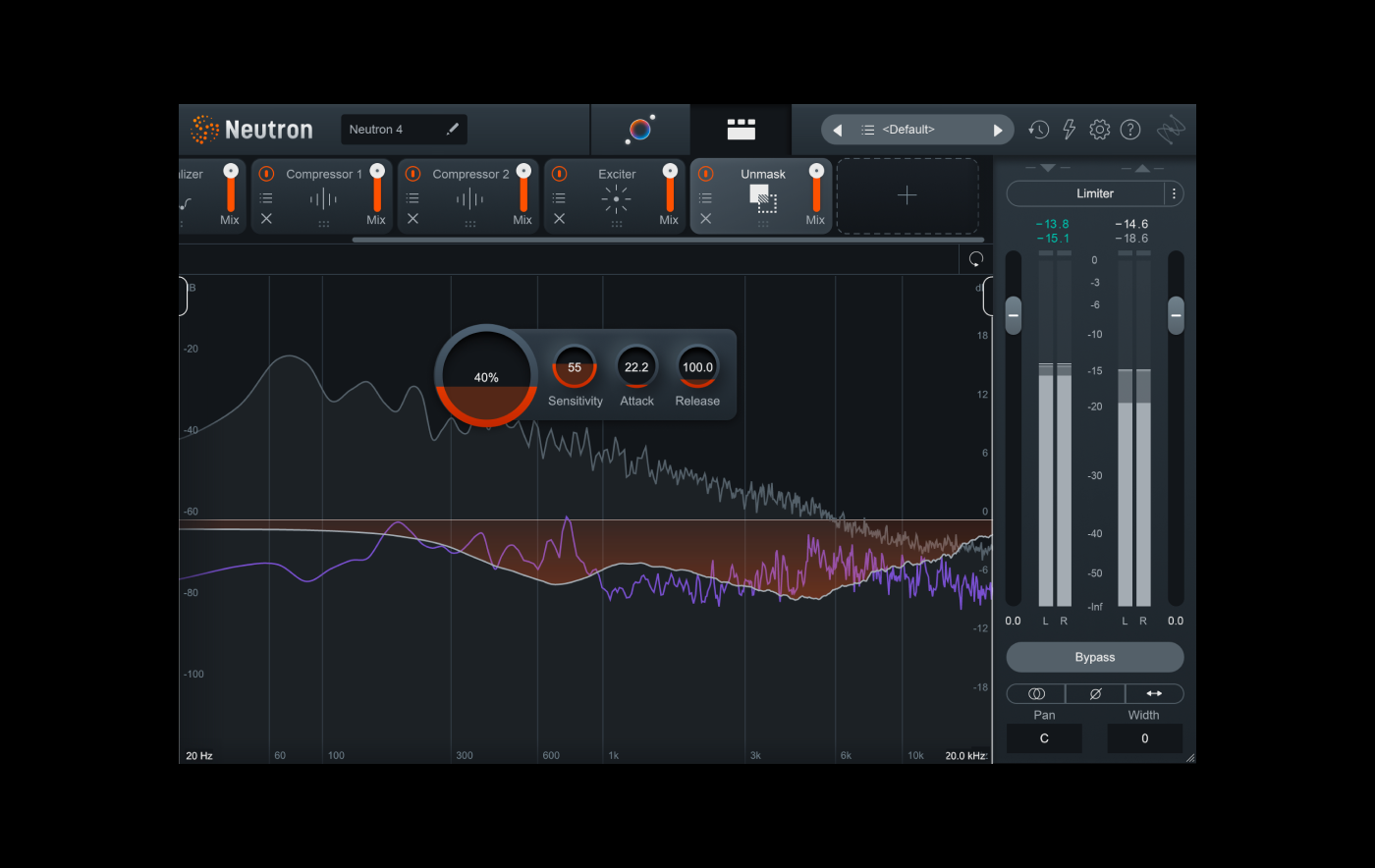 Punch it up
Neutron now brings some sizzle to your mixes with all-new additions to the Exciter and Compressor modules. Exciter now includes distortion tech from fan-favorite Trash, and the Compressor module can give your tracks some beef with the new Punch Mode.
Mix smarter and faster with Neutron 4 from iZotope, your complete suite for crafting a professional mix. Eight powerful plugins combine forces through AI-powered assistive audio technology to create the most modern and intelligent mixing experience. Mix in the moment with the new Assistant View, make space with the Unmask Module and magically match references in your Target Library with AI assistive technology. A slice of the fan-favorite plug-in, Trash is now in Neutron 4 allowing you to distort and destroy audio, discovering new extremes. With Neutron 4 you can sculpt sounds seamlessly while staying in your flow.
Neutron 4 has M1 Apple silicon native compatibility and comes with Visual Mixer and Relay to help your plug-ins talk to each other plus Tonal Balance Control 2 to view your levels as you mix.
What's included:



- A suite of 8 plugins: Full Neutron 4 Mothership, Compressor (improved!), Exciter (improved!), Sculptor (improved!), Unmask (new!), Equalizer, Gate, Transient Shaper
- Mix Assistant: Let Neutron automatically set your levels before you ever have to touch a fader. Now modernized with the new Assistant View.
- Visual Mixer & iZotope Relay plugins: Launch Mix Assistant directly from Visual Mixer and move your tracks in a virtual space, tapping into iZotope-enabled inter-plugin communication.
- Tonal Balance Control plugin: Meter while you mix to shape balanced levels based on tens-of-thousands of professional mixes.
- 7.1 Surround sound support and zero-latency mode in all modules.
- Improved performance and GUI updates, including compatibility with Apple silicon native (M1, M1 Pro, M1 Max) chips for faster processing.
For the most up-to-date system requirements and host compatibility details, please visit the manufacturer's website
Mac OS X 10.15.7 - Mac OS X 12.4.0+ (64-bit) including Monterey
Supported on Intel Macs & Apple silicon Macs (Apple M1 chips) in Rosetta 2 and native
Windows 10 - Windows 11