Devious Machines
Pitch Monster
Mind-bending pitch effects with polyphony, unison, chord memories, and more.
Try free for 3 days
Pause or cancel at any time
No hidden fees or interest
Compatible with macOS and Windows.
Available as AU, VST2, VST3, and AAX.
Extreme pitch shifting
Pitch Monster goes far beyond ordinary pitch shifting, transforming solo vocals into beautiful choirs or robotic melodies, mono synths into orchestras, or spoken vocals into an entirely different person. With up to 64 voices, 8-voice polyphony, realtime MIDI control, and its granular, formant, and vocoder engines, Pitch Monster can do everything from simple pitch shifting to fully playable sound-warping insanity.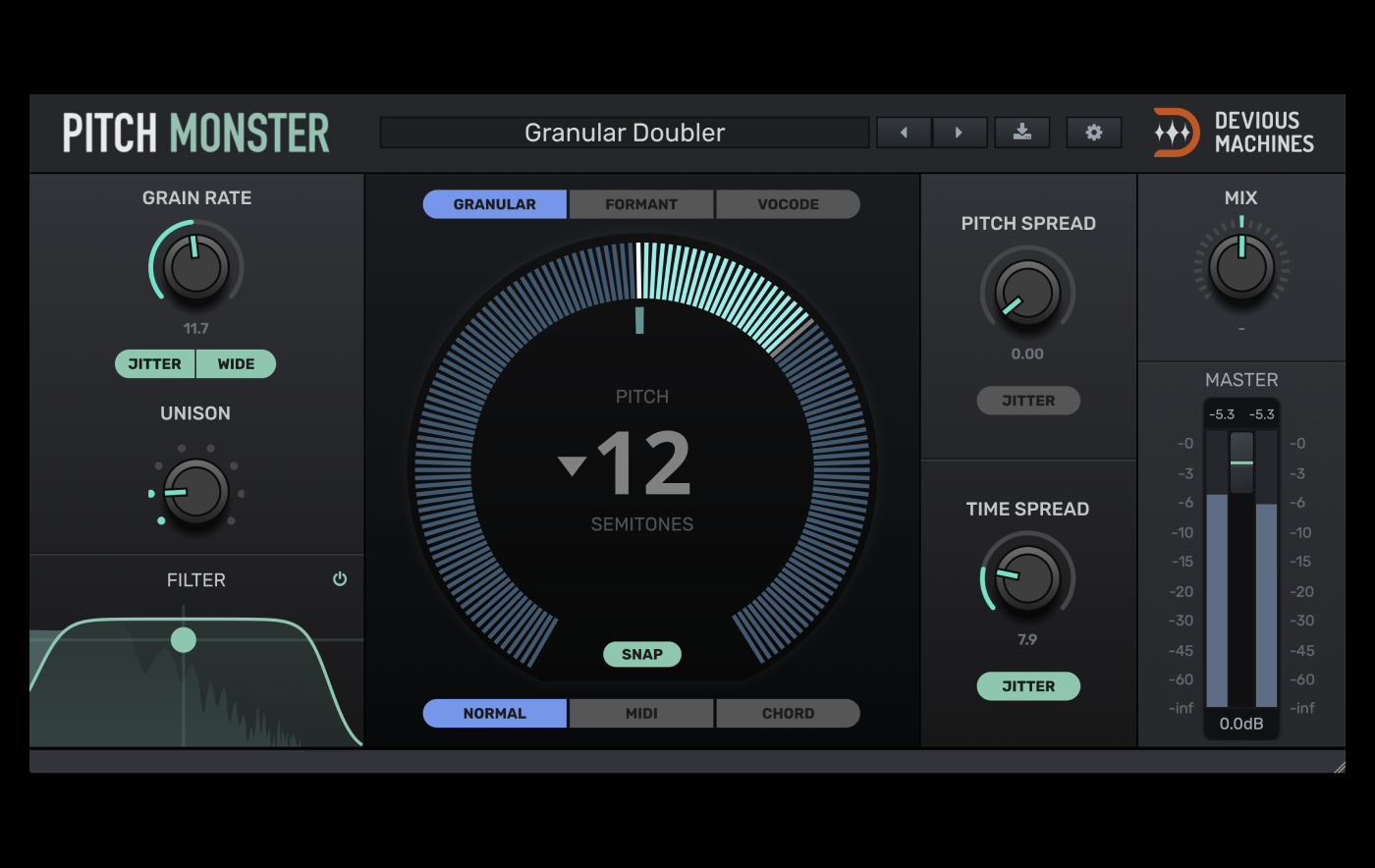 MIDI Mode
In addition to normal pitch-shifting, Pitch Monster can also operate using MIDI input. Route MIDI to Pitch Monster, and control the pitch-shifting from your DAW or MIDI keyboard. With MIDI note, glide, and pitch bend support, you can get musical results quickly—imposing new melodies and harmonies on existing material.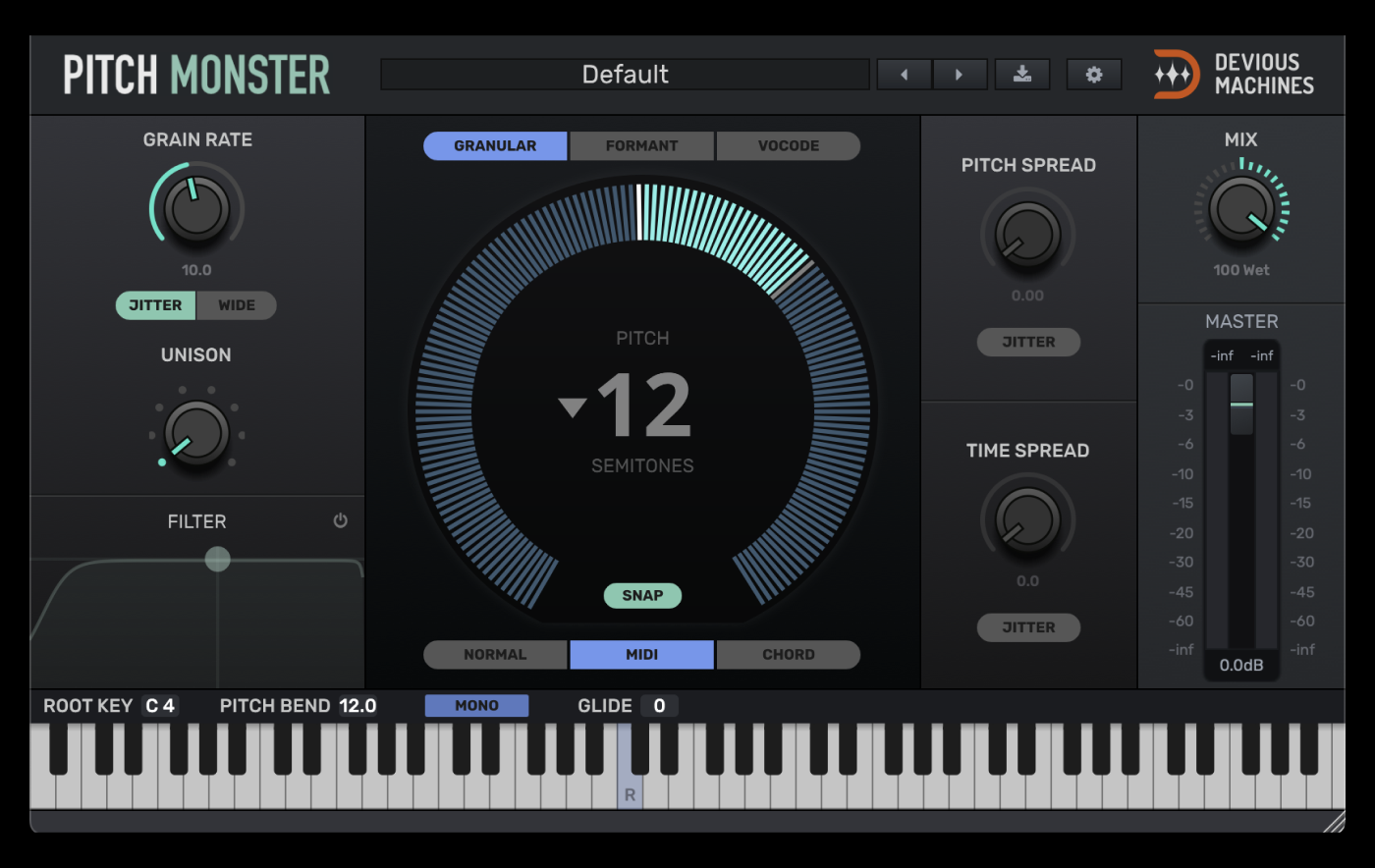 Chord Mode
Chord mode lets you select up to eight notes to form a chord, perfect for harmonizing or adding energy to a track. With 8 chord memory slots, you can save and recall chords for easy live performance. Build chords for your track in MIDI learn mode, or access hundreds of presets depending on your key. You can even copy chords to other instances of the plugin.
Make Pitch Monster more human
Pitch Monster can create 8 voices in unison (or 64 total voices in MIDI or chord mode) and spread them in time, pitch, or both. Use these controls to create variation between the voices, making them sound more organic and human and creating wide, thick, or diffuse textures.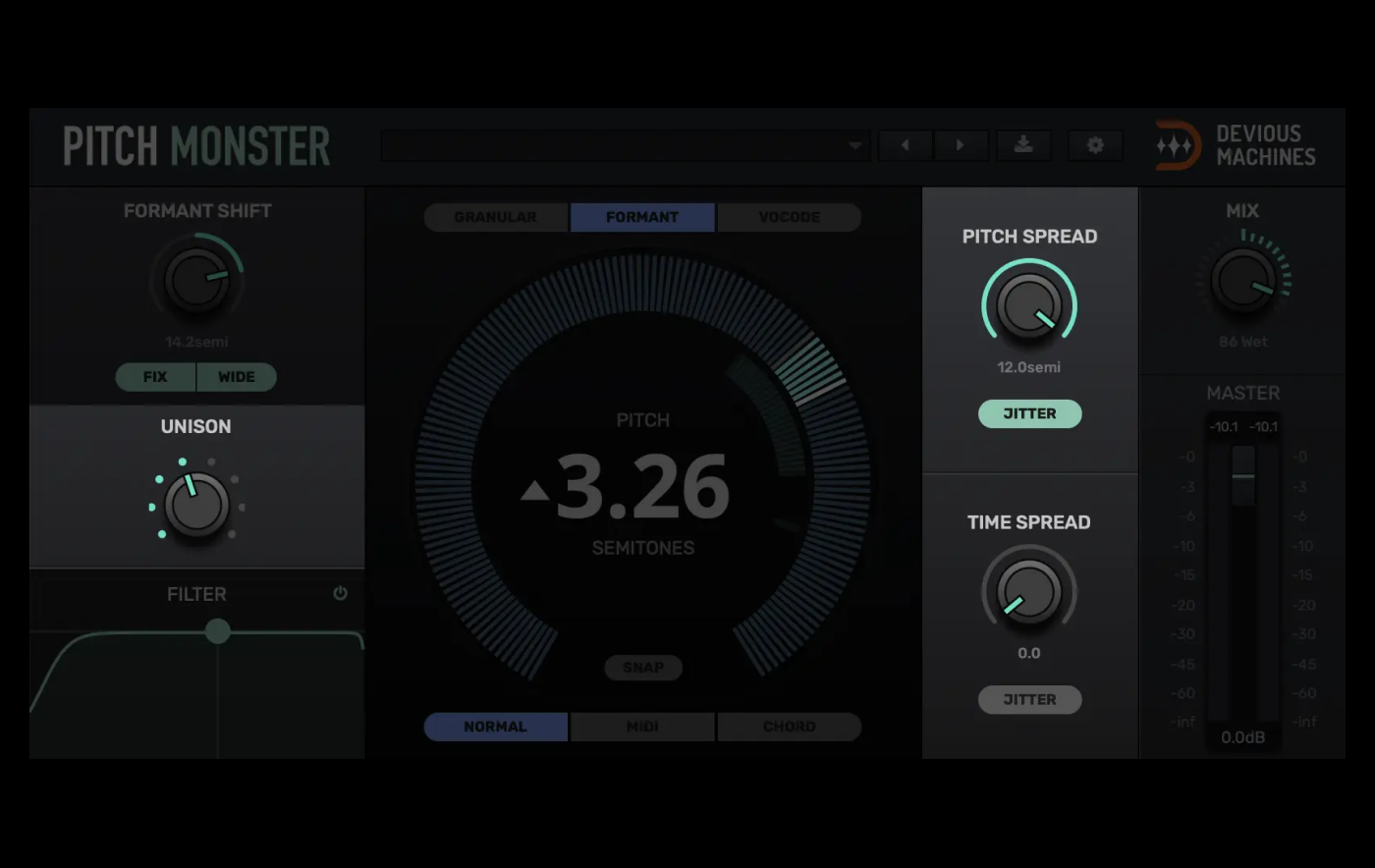 Pitch Monster manipulates the musical pitch of your audio, but gives you access to a much wider range of creative effects than a conventional pitch-shifter. This lets you re-pitch samples to your target key, harmonize lead melodies, create fatter synth lines by generating detuned layers, design otherworldly sounds from basic field recordings, turn a sample into playable chords, and tons more.
What's included:



- Harmonise with up to 8 voices of polyphony
- Huge 6-octave range
- Granular, formant-shifting, and vocoder engines
- Realtime MIDI control and programmable chord memories, with hundreds of presets
- Dual high and low pass filters for fine tonal control
- Wide mode for BIG stereo effects
- Intuitive user interface and responsive, low-latency DSP engine
- See the full features list on Devious Machines' website here.
For the most up-to-date system requirements and host compatibility details, please visit the manufacturer's website.
Mac OS X 10.11+ (64-bit), 8 GB RAM suggested, Native Apple Silicon support
Win 10+ (32/64-bit), 8 GB RAM suggested